industry news SME profile
Wednesday 08 Nov 2017 @ 10:16

World Quality Day 2017 - UKAS supporting World Quality Day
On 9th November 2017 World Quality Day (#WQD17) will be celebrated around the world. Initiated by The Chartered Quality Institute (CQI) which is a global professional body advancing the practice of quality management in all sectors, the celebration of World Quality Day is to promote a vision of a world in which all organisations optimise value for their stakeholders through excellence in governance, assurance and continuous improvement.
UKAS plays an important role in underpinning the value that organisations derive from quality management systems. UKAS is continually seeking new ways to improve the delivery of quality standards and demonstrate the value that accreditation can bring to accredited organisations and the wider business community.
With this aim in mind, UKAS has taken a leading role through its work with the UK Quality Infrastructure (UKQI) whose vision is to improve the competitiveness of the UK economy, and to support developing economies establish their own quality infrastructure. UKQI comprises BSI (British Standards Institution), Regulatory Delivery (part of the Department of Business, Energy and Industrial Strategy), NMRO (National Measurement and Regulation Office) and NPL (National Physical Laboratory).
UKAS is very actively involved with the organisations who make up the international conformity assessment community; IAF, ILAC, ISO, BIPM and OIML. In 2017, the Business Benefits website (www.business-benefits.org) was launched to showcase the financial value of quality standards and accreditation to businesses. This follows the success of Public Sector Assurance, which demonstrates how standards and accreditation can support public policy.
UKAS looks forward to the coming year with the completion of the transition to the revised ISO 9001 and ISO 14001 standards and to the publication of the revised ISO 22000 and ISO 45001 standards; and to working in partnership with the other quality led organisations around the world to reap the benefits of improved quality.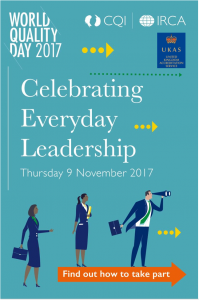 Click here to find out more about UKAS and our work in government and public sector.