Eworks Manager Ltd, 2-4 Euston Grove, Prenton, Wirral, Cheshire, CH43 4TY
T: +44 (0) 151 653 1926 E: info@eworksmanager.co.uk W: eworksmanager.co.uk
The Job Management Software that will help you run your company with more intelligence and control
SOFTECH INTERNATIONAL SOFTWARE AWARDS – "BEST JOB MANAGEMENT SOFTWARE SPECIALISTS"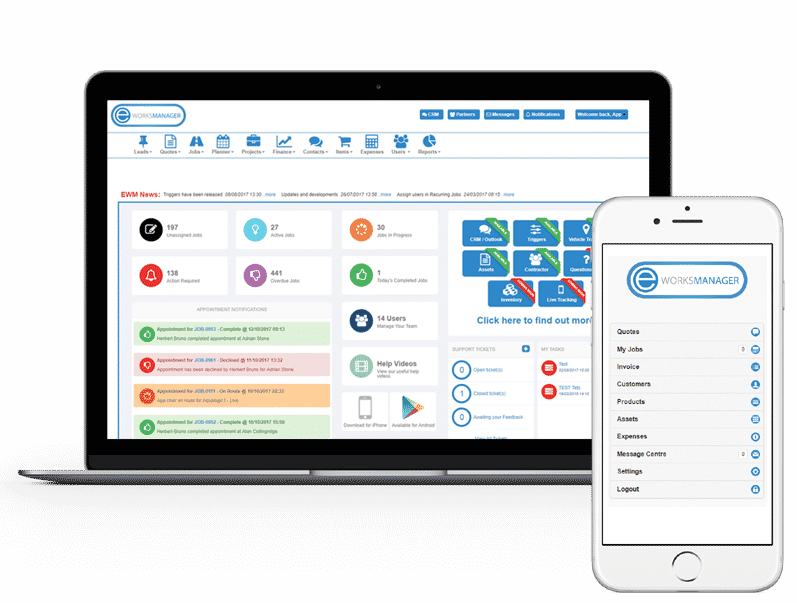 Introducing Eworks Manager, the number one job management system! Eworks Manager consists of 2 main elements, the system and the app. When used together you can have total control over your jobs and staff, making your company run in the most streamlined and cost effective way. This will help you achieve maximum profit from your companies products and services.
All in One System for Total Control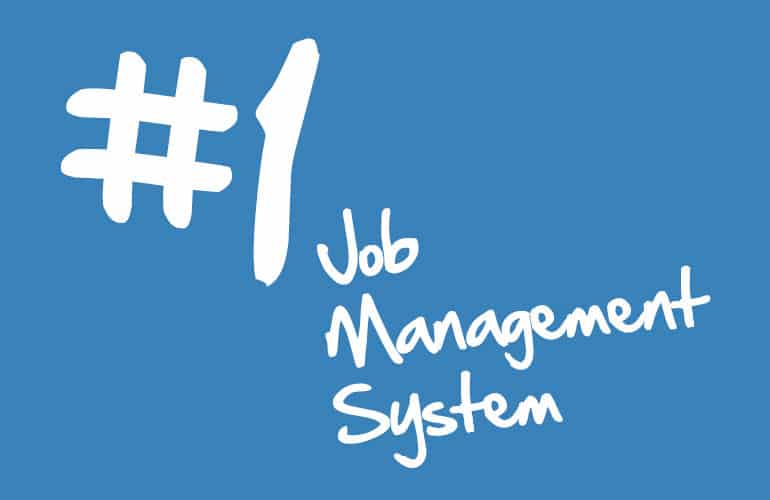 Our system can help your leaders keep control of sales, planning, completing jobs and projects, purchasing, assets, inventory, invoicing and your workforce - Read more below about our fantastic features.
Quotes: Create, send and manage quotes on the admin system and app whilst on site!
Job Management: Create jobs or job sheets from the admin system, or the app. Assign jobs to a project or multiple trade jobs.
Job Planner - Diaries: We have a virtual whiteboard that allows you to see all your jobs that have been booked in.
Monitor Employees: The APP will take your employees current location and then give them directions their next job.
Vehicle Tracking: The system is integrated with tracking and distributing jobs to your vehicles.
Asset Management: Monitor, schedule and maintain all your customer and company assets.
Inventory: Manage all your warehouse stock levels and control your van stock with ease.
Invoicing: With an invoicing system built in - plus integrations into top brands - control your finances.
Power to the Mobile Worker in their Hand
With a feature rich mobile app, your workers and sub contractors can achieve all they require. Our mobile app allows your mobile worker to have total control. SECURITY is a key part of most companies, you are in control of what you want your workers to see, dont worry !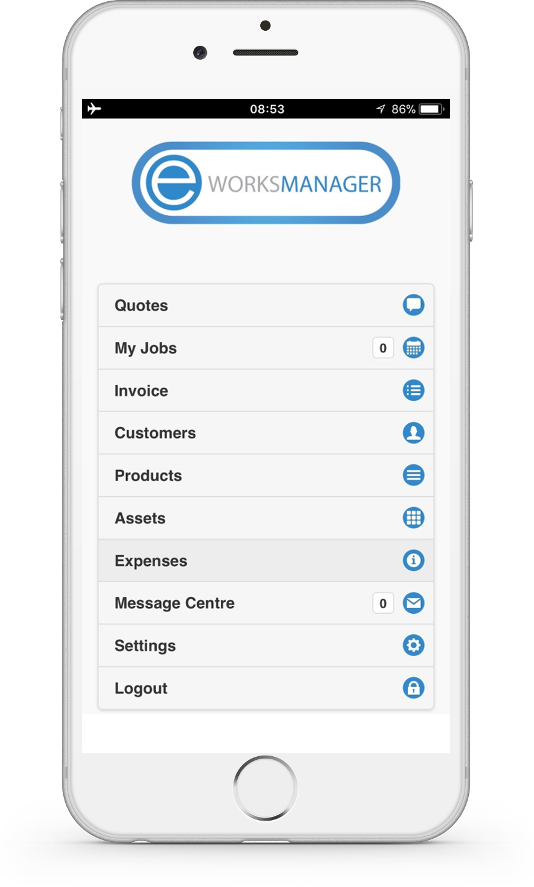 Offline Features: So wherever you are working you can complete your jobs without any data connection.
Mobile Quote: Build a detailed quote with our mobile APP. Simply add your customer and select from a range of pre populated services.
Job Sheet: Getting signatures from customers or operatives is built into our system. Your job sheet is automatically created based on the job information.
Photos: Take photos of before and after jobs and attach them to the job sheet to report to your customer and to store. Upload multiple photos at once.
Monitor Employee Location: The APP will take your employees current location and then give them directions their next job.
Mobile Documentation: Complete your paper documents from your mobile or tablet device. Any documents can be made digital into our system, with no setup charges.
Mobile Expense Tracking: Enables you to track all your expenses as and when they occur. Each cost can be assigned to a specific jobs on the go.
Mobile Invoicing: Creating invoices on the go allows you to send your invoice immediately after finishing a job.
Some of our features that will WOW you
Offline App feature: Our App work with Android and IOS devives. With a built in offline feature you can guarantee your operatives works smoothly.
Built in CRM software: CRM software built into the system - You can mange your calls, emails, tasks, notes, complaints and see a full history. With our OUTLOOK integration you can sync your internal emails.
Customise your Documents: All your business documents can be customised into the eworks system. Whether it be your job cards or documents that need completing on the go.
Manage schedules: With a built in diary system you can plan, monitor and track all your jobs real time. If things dont go to plan, our alert system will let you know.
Reporting: Eworks has a built in reports section that can help your understand performance, figures, sales, spending and alot more ! All in one place
Customise in a few steps: Your eworks system can be easily setup. Import your customers, products and users and away you go. All sections are customisable to you.