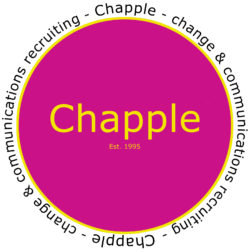 Unit B242 Riverside Business Centre, Haldane Place, Wandsworth, London, SW18 4UQ
t: +44(0)20 7734 8209 e: info@chapple.ltd.uk w: chapple.ltd.uk
Welcome to Chapple Ltd – Change and Communications Recruitment
Chapple is a trusted niche recruitment firm specialising in permanent and interim change and corporate communications talent. Our extensive GDPR compliant database, meticulous research capabilities, strong social media presence and in-depth experience in this field gives us access to the best candidates.
Specialities:
External Communications
Internal Communications
Change and Business Transformation
Programme & Project Management
Human Resources
We are experts in identifying and placing top talent in external communications roles. Communicators now need to deal with an ever-widening range of stakeholders through a complex choice of media whilst also being able to communicate with and influence senior management. Top talent in these fields is scarce, but due to our up to the minute research, we know who they are and can access them quickly.
Once the 'poor relation' of external communications, internal communications are now considered a 'must have', an essential strategic element contributing to a business's overall success. Professional communications techniques used for decades on external audiences are successfully being implemented to influence and inspire one of the most important and influential stakeholder groups of all – an organisation's workforce. There is now compelling evidence that a firm correlation exists between employee engagement and high organisational productivity and performance, across all sectors of the economy.
Chapple has been focusing on identifying top talent in the employee engagement and internal communications space for many years and we have the ear and the trust of many of the best in their field. We have a track record of providing a first-class personal service to give our clients quick, easy and reliable access to all levels of employee engagement candidates for permanent and interim/contract roles.
Not only must companies be able to change and adapt to a continuously evolving financial and corporate landscape to stay competitive, they must also have the talent in place to manage and deliver such change.
Chapple has extensive experience identifying and recruiting senior project and change managers across a range of industries and businesses. We have access to the right people, in the right sectors, at the right time. Our constantly updated, international database means we can offer you candidates who possess the necessary knowledge, skills and experience to execute a wide range of projects and programmes, who can improve processes efficiently and cost effectively and who are available on a permanent or interim basis.
Chapple has a proven track record in finding exceptional Human Resources specialists for companies with very specific needs. We have an extensive database of HR experts, from generalists to specialists in compensation and benefits, recruiting and talent acquisition, on-boarding, performance management, training, organisational development and HR systems.
We provide a first-class personal service to give our clients quick, easy and reliable access to all levels of HR candidates for permanent and interim/contract roles.
Why Choose Chapple?
We take the time to understand you, our client, whether you need a communication specialist for a month or forever, we make sure we know not just the job spec but also take time to appreciate your unique company culture, your goals and working methods and what sort of person you need to hire, now and in the future.
This is what our clients have to say about us:
"I have been working with Chapple as a client for many years and have recruited some outstanding candidates. Chapple really takes time to get to know the company, the culture and team dynamics and find the right candidate for every role, no matter how junior or senior or how challenging the brief. The service is professional, reliable, fast and friendly and I have no hesitation in recommending them" Debbie Perucca, Senior Communications Administration Manager
Great service from Suzannah and the team at Chapple. The brief was tough and the requirements were fairly challenging, however, Chapple come through with a number of great candidates which were well tailored to our requirements. We would use Chapple again for those types of roles… David Jamison, HR Manager, BP plc
We found the approach that Chapple took was extremely different, starting with the candidates first really meant they knew the people they put forward were right. The service was professional and Suzannah knows the industry inside out. Fran Sallas, Company Secretary, Daily Mail General Trading
Chapple have to be one of the best recruitment firms to do business with. They're consistently responsive, client-driven and down to earth. I have no hesitation in recommending them. Paul Rudd, strategic change consultant