t: 01698 376 411 e: info@recorduk.co.uk w: recorduk.co.uk
Welcome to Record UK Ltd
Automatic Doors & Pedestrian Security Solutions - quality and reliability at the right price'
Record UK manufacture, supply and install industry leading pedestrian automatic doors and entrance solutions. We also offer tailored maintenance programmes to manage your assets. In addition, we are known for:
Being the trusted partner for many well-known commercial companies, retail giants and individual businesses. Our products grace the exteriors of many famous UK buildings, familiar high street banks and well-known brands, and are used by many local authorities, NHS Trusts, airports, hotels and other organisations.
Offering a wide range of solutions from impressive commercial façades, elegant entrances for retail premises, dedicated shop-fronts or simply a replacement sliding door.
We are widely trusted to supply the right automatic door solution when required, on time and most importantly, on budget whilst applying to the European standards for quality, safety & security.
Record UK offer, in addition to their automatic doors, a full range of pedestrian security solutions
Our 24/7 maintenance and servicing team understanding maintaining 'business as usual' is a priority for our customers offering quick and efficient repairs to our customers, no matter what time of day the need arises.
Please click on the links below for more information:
PRODUCTS
SPECIFICATION ADVICE
SERVICE & SUPPORT
Automatic door servicing & maintenance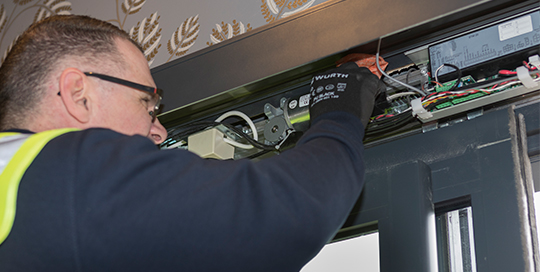 Our service department is available 24/7, 365 days a year. If you are experiencing a fault on your door, please check our BDE Identification Tool in the first instance, to see if this can help you. If it doesn't please complete our editable Report a Fault Form.
We also have a series of cost effective service packages that can help you save money, offering peace of mind and prolonging the life of your doors.
If you've had a new door installed by Record within the last year, click here to register for your free 12-month parts warranty.
We also have a number of top tips and tricks to help you ensure the process of maintaining and servicing your doors is as easy as possible.
Specification support for automatic doors
Our Automatic Door Specification Expert is on-hand to give support and guidance on design, compliance, technical and specification.
Our complimentary service ensures you choose the right automatic door solution. Enjoy peace of mind that we will support you with advice, specifications and product suggestions that are compliant with industry standards, meet the end-user's expectations, and help installation go as smoothly as possible.
Click here to visit our specification page.
Record Security Entrance Control
Record understand that many businesses and buildings can only operate safely when a high level of security is present at all time, and we have a number of solutions to ensure visitors are safe at all times.
Our range of entrance control products include speed gates, speedlanes, turnstiles, mantrap portals, security revolving doors and one-way exit lanes.
We also provide security specification and security compliance support across all requirements. Speak to our Entrance Control Specialist Stephen Goodridge on 07771 870 511 or email stephen.goodridge@recorduk.co.uk.
You can find all our security automatic doors here.
Head Office
Unit D, Watt Place, Hamilton International Park, Blantyre, G72 0AH
Regional Offices
Unit 2, Shaw Cross Court, Shaw Cross Business Park Dewsbury, WF12 7RF
17 Invincible Road, Farnborough, GU14 7QU
Unit 37, Coleshill Ind Est, Station Road, Coleshill, B46 1JT
Unit 1, Maxted Park, Maxted Road, Hemel Hempstead, HP2 7EP