14/15 BELGRAVE SQUARE
Beautifully presented facilities with unique heritage and excellent service - the perfect location for your next event!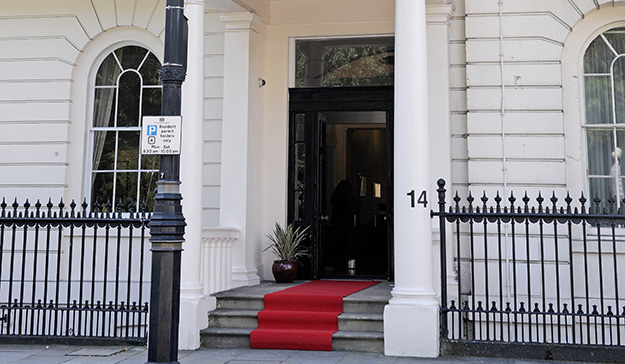 Meeting rooms at a glance
Beautifully presented, contemporary facilities with unique heritage and excellent service -
Welcome to the perfect location for your next meeting or event!
Based in the heart of London, on Belgrave Square itself and just 15 minutes walk from Buckingham Palace and the Royal Parks, the Belgravia Function Rooms boast the perfect combination of easy access, central location and peaceful privacy. With seven diverse and flexible event spaces that effortlessly blend contemporary style with Georgian period charm, plus two terraces and secluded courtyard gardens, it's the perfect location for everything from meetings for 4 to conferences for 140.
Please find below details of the capacity for each of the newly refurbished rooms. You can find further details for each of the room by clicking on the name of the room.
| Meeting Room | Boardroom | U-Shape | Classroom | Theatre | Reception | Cabaret |
| --- | --- | --- | --- | --- | --- | --- |
| | - | - | - | 150 | - | - |
| | 16 | 12 | 12 | - | 100 | 50 |
| | 36 | 32 | 27 | 80 | 100 | 50 |
| Roscoe Room | 18 | 15 | 16 | 30 | 40 | 24 |
| | 26 | 22 | 16 | 45 | 50 | 40 |
| | 8 | - | - | - | - | - |
| | 20 | 18 | 16 | 40 | 50 | 30 |
Contact us now via tel: 0207 598 1500 or at meetingrooms@soci.org for more information or to discuss your requirements!
Contact us now via tel: 0207 598 1500 or at meetingrooms@soci.org for more information or to discuss your requirements!
Leverhulme Room

Auditorium

Council Room

newly opened stylish and flexible room with private terrace
More

tiered seating for up to 140 guests, state of the art presentation and AV equipment
More

beautifully presented room with many original features, variety of layouts available
More

Garden Room

Perkin Room

Roscoe Room

light, and spacious split level room with access to the gardens
More

private and smart boardroom for 8, ideal for small meetings and interviews
More

traditional room located on the ground floor of the building, opposite the Council Room and ideally located just off the main reception.
More

Baekeland Room

a modern, newly refurbished meeting room located on the lower ground floor of the building, benefiting from both natural light and adjustable lights in the room.


More
The Gardens
With large terraces accessed directly from the Council and Leverhulme Rooms as well as two beautiful and secluded courtyards, and the recently opened SCIence Garden, the gardens at SCI offer the perfect extension to your event space.

Private and peaceful, the gardens are ideal for anything from a breath of fresh air in a refreshment break to an intimate drinks reception or BBQ.

Access to the gardens is complimentary with bookings of the Auditorium and Garden Room, and the terraces with either the Leverhulme or Council Room.

Need more space? The Council Room Terrace is linked via stairs to the Courtyard Gardens, allowing a flow of guests around the venue. Talk to us about your event today!
Services
Here at SCI and the Belgravia Function Rooms we are a small but friendly team and pride ourselves on offering you excellent service and value from initial enquiry to event. We are always on hand to discuss your requirements so you can be confident that your event will be a success.
Whether it's a working lunch or a three course dinner, a conference call or videocasting your event across the country we will work with you and our excellent suppliers to ensure that your event is delivered to the highest standards.
Catering
We are very pleased to announce our new approved suppliers, who can provide wonderful catering options from drop-off lunches (or breakfasts!) right through to multi-day conferences and fine dining.
Need some inspiration? Take a look at their websites below:
Refreshments including tea, coffee, biscuits and water are also available in house at £2 per head, per serving.
Our team can order and arrange everything for you, from menu options to delivery, set-up and staff on the day so you can relax and enjoy your event. Talk to us today!
Audiovisual Equipment
We offer the latest audiovisual (AV) facilities to support your corporate function or meeting. Each of our rooms has a standard AV package, which include a screen, laptop, conference or video calling and barco-clickshare (wireless presentation device), as well as speakers and microphones in the Auditorium. However, we also offer additional options including an AV technician, audio recording, portable microphones and speakers and videocasting and can arrange a bespoke package to meet your requirements.
Full details of all of our equipment are available on request.
Break-Out Spaces
With seven flexible event spaces with capacities from 4 - 140, the Belgravia Function Rooms can provide some excellent options for events that need a bit more space for break-outs, workshops, refreshments and receptions.
The Garden Room is included with Auditorium as an ideal break-out or refreshments area and the Council Room is just off of the same entrance hallway, providing a perfect option for some extra space. If it's a workshop or smaller meeting that you're after, the Leverhulme, Perkin and Baekeland Rooms can also be hired individually or as part of a larger booking.
Hire one room or several as a suite. For larger events, we even offer a dedicated entrance from the Square, with space for your own registration desk, signage and exhibition stands.
Gardens
In fine weather, both the Council and Leverhulme Rooms have direct access to outdoor terraces whilst the Auditorium and Garden Room have access to the courtyard gardens, offering a breath of fresh air for your delegates and even the option for outdoor drinks receptions and catering.
Flowers, decoration and photography
Need some help with the final touches? We can arrange flowers, decoration, photography and videography. Just let us know and we will be happy to help.
To arrange a viewing or to check for availability, please contact the meeting rooms team via
T: +44 (0) 207 598 1500 or E: meetingrooms@soci.org