Thursday 02 Sep 2021 @ 14:10
Big Lottery Fund
£2.6 million National Lottery boost for Northern Ireland communities
A range of community projects including those supporting stroke survivors and a group helping people with disabilities to surf have received more than £2.6 million from The National Lottery Community Fund.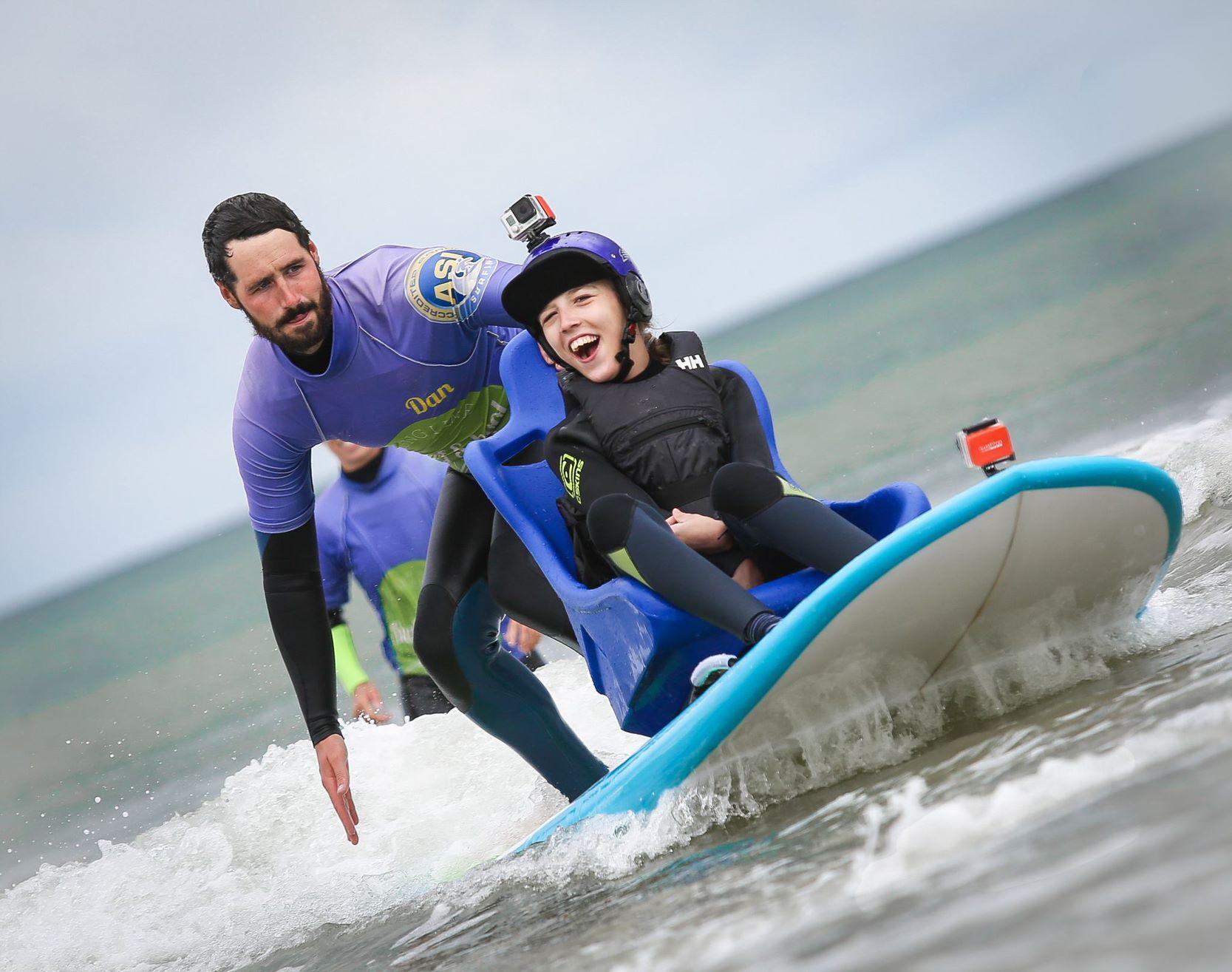 Talia and instructor Dan taking to the waves with The Mae Murray Foundation, who have been awarded a £9,983 grant from The National Lottery Community Fund to support people with complex disabilities to surf.
Across all council areas, 81 projects are receiving £2,651,839 with grants from £1,000 to half a million pounds helping isolated older people, children as they return to school, those living with poverty or challenges around long term health conditions or disability. For full details of all grants awarded please download the table below.
The Stroke Association is using £498,771 to provide emotional support to stroke survivors and their families, helping them build resilience and adapt through counselling and events so they can meet new people and share experiences.
Sean O'Hare, 45, a sport obsessed teacher from Co. Down, had a stroke in August 2020. During his recovery he needed emotional support and received counselling to help him adapt and move on with his life.
Sean said:
"It was the strangest feeling. I was at work and my friend noticed something was wrong immediately. My facial expression changed and my face seemed to droop on one side and my speech became different all of a sudden. I was quickly taken to hospital where I spent almost a week getting treated.

"A big thing for me was the emotional changes around how I'd been so fit and strong before and now I had to accept depending on other people. It was a lot for me to handle. I've always been into sport, playing football, running marathons and generally exercised until I couldn't go any further. My family are great but I found that I could open up more and say things during the counselling sessions that I couldn't to my loved ones, helping me to come to terms with it all."

"After the counselling, I felt that I had a platform to start from again. I'm delighted that this project has been funded so others can get the help I did. A big high point was starting back to teaching in March and I'm now looking forward to a new school year, this may not have been possible without the support from The Stroke Association."
Ursula Ferguson, Service and Engagement Lead at The Stroke Association, said:
"Stroke survivors and carers tell us that they struggle emotionally with the impact of stroke, and this National Lottery funding is allowing us to come together with NI Chest, Heart and Stroke, to use our expertise to get vital support to people across Northern Ireland. Thank you to National Lottery players for making it possible, truly changing the outlook for people and families affected by stroke."
Of the 81 National Lottery grants awarded, 73 are for under £10,000. Smaller amounts make a huge difference to local people giving new opportunities in communities.
The Mae Murray Foundation in Larne is using a £9,983 grant so people with complex disabilities can go surfing at the beach, helping them to be included and have much needed fun after shielding.
Kyleigh Lough, Operations Manager, Mae Murray Foundation, said:
"Since receiving the National Lottery money we've been putting the only 'sit-down' surfboard in Northern Ireland to good use with 100 members taking to the waves so far, seeking the thrill of the surf, giving them such a boost.

"Family members have joined in either on the water or back at shore too, meaning over 300 people have benefited from this inclusive project already, having so much fun together. I can't thank The National Lottery Community Fund and National Lottery players enough for helping us empower people and improve their wellbeing by giving them a chance to take part in activities on the beach together, that most of us take for granted."
Paul Sweeney, The National Lottery Community Fund's NI Chair, said:
"I'm delighted to be able to announce these grants today supporting such a diverse range of projects, who are meeting the needs in our local communities.

"I'm looking forward to seeing how these projects improve the lives of people from across Northern Ireland as we start to re-build and re-connect following our experiences of the pandemic over the last 18 months.

"National Lottery players can be proud to know that the money they raise is making such a difference to lives."
Click here for the full press release
Latest News from
Big Lottery Fund