Thursday 20 May 2021 @ 14:10
Big Lottery Fund
£6.8m National Lottery boost supports local families and communities in Northern Ireland
The National Lottery Community Fund has today announced £6,850,708 of funding to 141 projects providing vital support to families and communities across Northern Ireland. For a full list of awards download the table below.
This includes funding for organisations offering practical help to parents, support for people living with health conditions or disabilities, and activities to rebuild community connections and improve wellbeing as we recover from the pandemic. Grants range from less than a thousand to half a million pounds.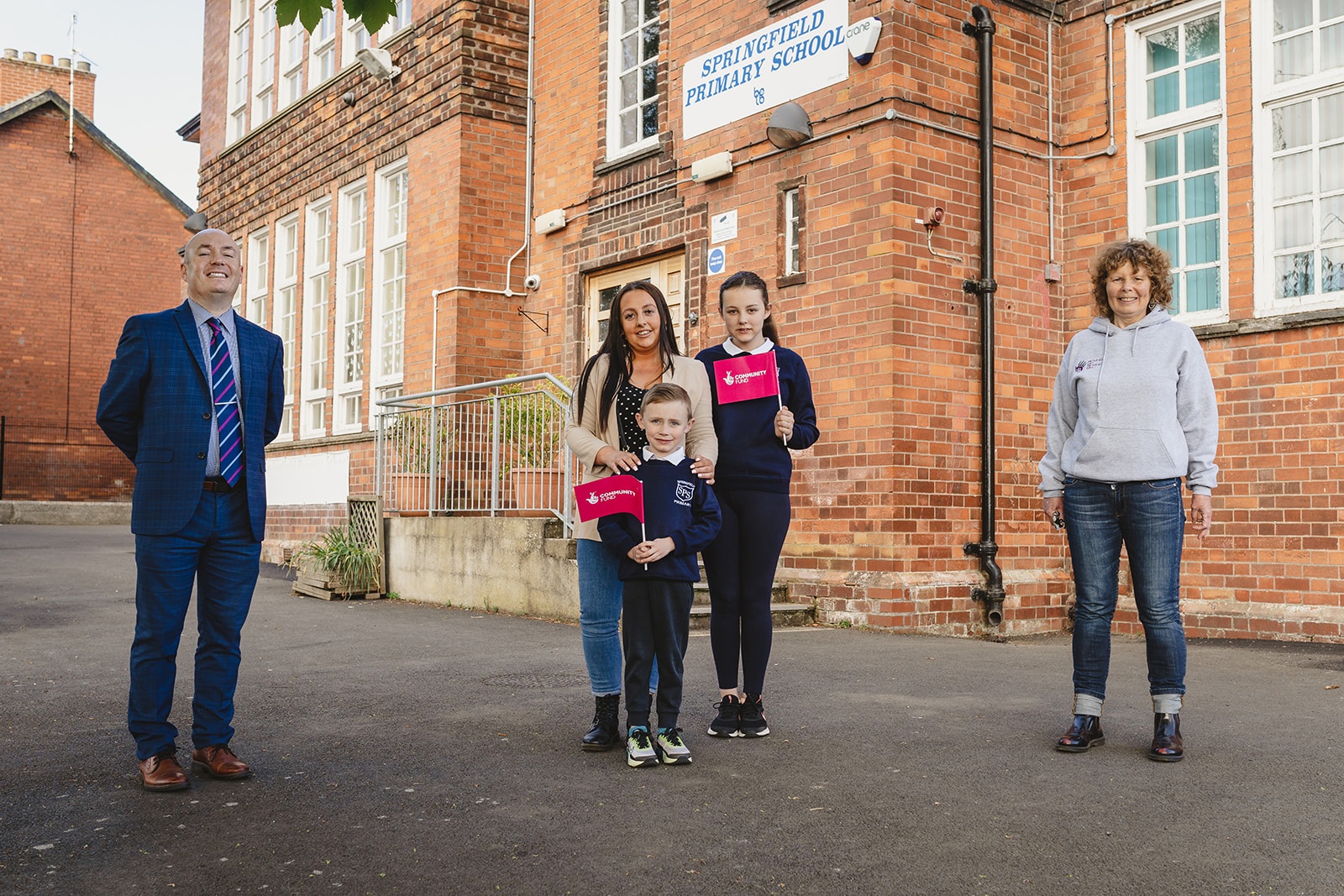 L-R Steven Osbourne- Principal of Springfield Primary School, Linzi Moore, Leighton Moore, Kayla Moore, Heather Floyd who leads Forthspring Inter Community Group's MUMO project. The group has been awarded a £500,000 grant from the National Lottery Community Fund as part of an announcement of £6.8million to 141 organisations from across Northern Ireland today.
Forthspring Inter Community Group has secured £500,000 to build on an interface project in West Belfast. Moving Up, Moving On (MUMO) works with families from Springfield Primary School and St Clare's Primary School, providing support to help people make positive changes in their lives and build relationships.
Heather Floyd, who leads the MUMO project said:
"We're absolutely delighted to receive this significant National Lottery investment for the area. Parents see this project as giving them opportunities they might have missed at school, and giving their kids chances to have a positive experience of education. When families get involved in our activities, they also become closer to the school and teachers, helping work with them to support their child's education and wellbeing.

"During the recent nights of riots in the area, parents from both sides of the peace wall were messaging each other in our family group, checking everyone was ok and saying how we all need to stay united and work together across communities to build the city back up again after COVID. This project is letting people that would never have been friends come together and it's so important for the future as the kids get to know others from a young age, all while doing fun and educational things to help themselves."
Mum of four, Caitriona Fitzpatrick from the Springfield Road has been getting help from the organisation over the last few years. She said:
"This project has completely changed my life. I had really bad anxiety and it took a lot of courage and attempts to go to an activity, but because I knew it was for both sides of the community, this spurred me on. I have learned so much and grown in confidence, achieving things I never thought I would.

"My oldest boy has autism and never wants to go anywhere, which is so hard. This project brings families from both schools together once a month for things like doing crafts and having a meal, and he absolutely loves it. This is the first time we have been able to make memories as a whole family."
Mum of two, Linzi Moore, from the Shankill Road has continued to get support during lockdown. She said:
"The organisation has been delivering packs for us to cook together virtually and we have been doing fun walking challenges – it has really given me something to look forward to.

"My daughter went to the summer scheme and made friends with a girl from the other school – that would never have happened without this project."
Another group receiving National Lottery funding is The Fragile X Society UK, who are using a £9,034 grant to raise awareness and set up a support network for those with Fragile X Syndrome and their families in Northern Ireland. Fragile X is the little known, but most common inherited cause of learning disabilities, with 5,000 people thought to be living with the condition here – the majority not diagnosed.
Mary Martin, from Newry, Board Member of The Fragile X Society UK said:
"My parents battled to get a diagnosis for my younger brother, Tom, over 20 years ago, but Fragile X is still not widely recognised today.

"I'm delighted that this project has received National Lottery funding to raise awareness so health and social care professionals and families can get proper advice and support around testing. People living with Fragile X face wide-ranging challenges and many families find generic support and services don't understand their needs. This project will help them access the best care for their loved one and be able to advocate for their rights in the future.

"As Tom's best friend, carer and someone who plays a massive part in his life; watching him develop and find his way in the world has been inspiring. It is the Fragile X Society UK's and my aim to ultimately help promote Fragile X Syndrome in Northern Ireland, so we can help make Tom's life and that of others like him as fulfilling as they have made ours."
Kate Beggs, Northern Ireland Director of The National Lottery Community Fund, said:
"We're delighted to announce funding to 141 organisations across Northern Ireland today. From the very smallest to the largest, these projects are using National Lottery money in different ways to support people of all ages, families and diverse communities to re-build and re-connect.

"We support charities, community groups, and people with great ideas – large or small. We want to talk to anyone who has an idea or wants more information on funding to support their community. National Lottery players can be proud to know that the money they raise is making such a difference."
Click here for the full press release
Latest News from
Big Lottery Fund