Monday 25 Sep 2023 @ 14:20
Association for Project Management
APM conference helps women in project management progress their careers
Professional and personal advancement were in the spotlight at the APM Women in Project Management Conference 2023.
Hundreds turned out for the annual event, held in Central London on Thursday, 21 September, to be part of the discussion on a wide range of issues relevant to women in project-related roles.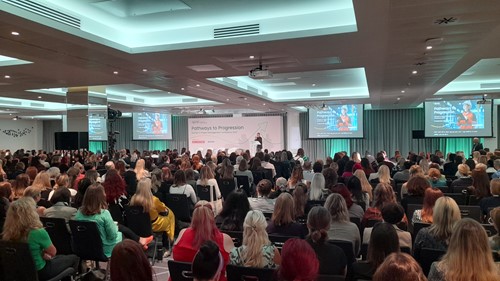 This year's Women in Project Management (WiPM) event focused on the theme of 'Pathways to Progression'. It featured a programme of renowned project experts, business leaders, authors and academics who led discussions on emotional intelligence, strategies for career progression, managing stress, leadership, and much more.
The sold-out event, sponsored by BAE Systems, was hailed as a huge success by attendees who praised the rich line-up of speakers and engaging subject matter.
APM Chief Executive Professor Adam Boddison OBE opened proceedings before introducing opening keynote speaker, Dame Inga Beale, workplace equality advocate and former Chief Executive of insurance giant Lloyd's of London.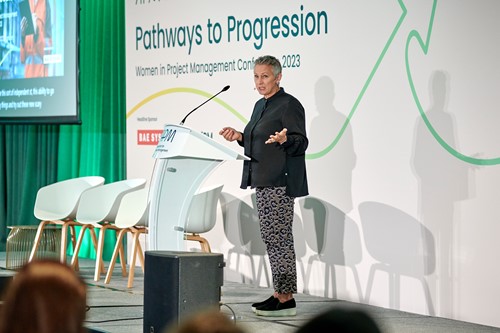 During her session, Dame Inga shared the story of her career journey, spanning three decades of global business experience. She also shared advice, based on her own experiences, for career progression in a male-dominated profession.
One piece of guidance Dame Inga shared with the audience was to use of what she referred to as the P.I.E model:
Performance
Image
Exposure
"The 'P' in this model is a given. You're expected to perform in your job," she explained. "But the 'I' is vital. You have to understand how people perceive you. You have to ask for feedback.
"Don't underestimate the 'E'. You have to hone in on networking skills…Go out of your way not just to say hello to your friends but to meet new people. I would urge you to make a plan and do this."
The event concluded with a speech by the new chair of APM's Women in Project Management Specific Interest Group (WiPM SIG), Irene Maposa, who echoed earlier speakers by challenging attendees to push themselves out of their comfort zones, re-evaluating attitudes and change behaviours to take their professional progression to the next level.
Speaking after the conference, APM's Head of Events and Volunteer Engagement, Manuela Impellizzeri Kemp, said: "We've been delighted by the positive feedback from delegates at this year's Women in Project Management conference. The theme of Pathways to Progression really resonated with people and contributed to a hugely successful event. We're looking forward to next year's conference already."
Click here for the full press release
Latest News from
Association for Project Management