Friday 21 Apr 2023 @ 13:20
Association for Project Management
APM visits HS2's Curzon Street Station
APM Chief Executive Professor Adam Boddison OBE and Deputy Chief Executive Mark Hepworth visited HS2's Curzon Street Station in Birmingham, managed by APM Corporate Partner Balfour Beatty plc, to learn more about the benefits our profession is bringing to Europe's biggest infrastructure project.
The much-anticipated project is a catalyst for regeneration which will generate 4,000 new homes, 36,000 new jobs and £1.4bn of economic benefit. Hosted by Siobhan Mulcahy, Head of Programme Management Capability at HS2, the importance of heritage, open spaces, environment and sustainability were championed as key aspects of the project, so its delivery can 'minimise the impact, but maximise the benefit'.
The approach to the new station will include a 150-metre section of viaduct (pictured) and a unique light installation designed by British artist Liz West, which will establish the bridge as a new icon for Birmingham's skyline.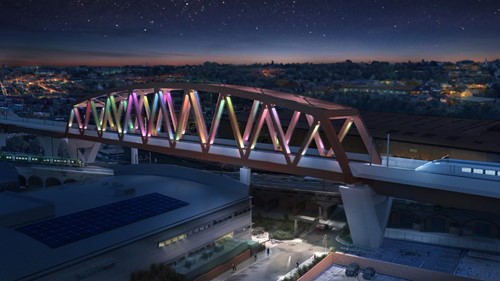 Image courtesy of HS2
The bridge has been nicknamed "The Bellingham Bridge" by the HS2 team, in honour of England footballer and Stourbridge-born Jude Bellingham's performances at the World Cup 2022. It's the tallest structure in the sequence of viaducts and structures that make up the Curzon Street Approaches that take HS2 into Birmingham's new city centre station.
Following the site visit, Prof Boddison held a Q&A session with HS2 graduate project managers and apprentices about their experiences, career development goals and the role of APM in the profession.
Latest News from
Association for Project Management