Friday 25 Oct 2019 @ 13:15
Met Office
Amber rain warning for parts of South Wales
Through today (Fri) and much of Saturday a weather system will bring heavy and persistent rain to many places, especially in western and some central parts of the UK.
The latest forecast suggests parts of South Wales will most likely see some of the highest impacts and because of this the Met Office has issued an Amber warning for the region (from 18:00 today until 11:00 on Saturday).
Neil Armstrong, Met Office Chief Meteorologist, said:
"Signals of this period of intense rain that we'll see from later today into tomorrow were picked up earlier in the week and in response the Met Office issued Yellow warnings for rain for various parts of northern and western England, and Wales. The latest forecast has provided greater certainty about the risk of elevated impacts for parts of South Wales and on that basis, we have issued an Amber rain warning."
Gary White, Lead Specialist Advisor (Incident Management) for Natural Resources Wales, said:
"The predicted weather is likely to cause flooding in many parts of Wales over the weekend so we're advising everyone to keep up to date with flood warnings issued in their areas.

"We are working alongside our partners from the emergency services and local authorities to minimise the risk to communities.

"We want people to be aware that flood water can be extremely dangerous, and people should not attempt to walk or drive through it unless instructed by the emergency services.

"Flood alerts and warnings are updated on our website every 15 minutes and you can also get the latest on flooding in your area by phoning Floodline on 0345 988 1188."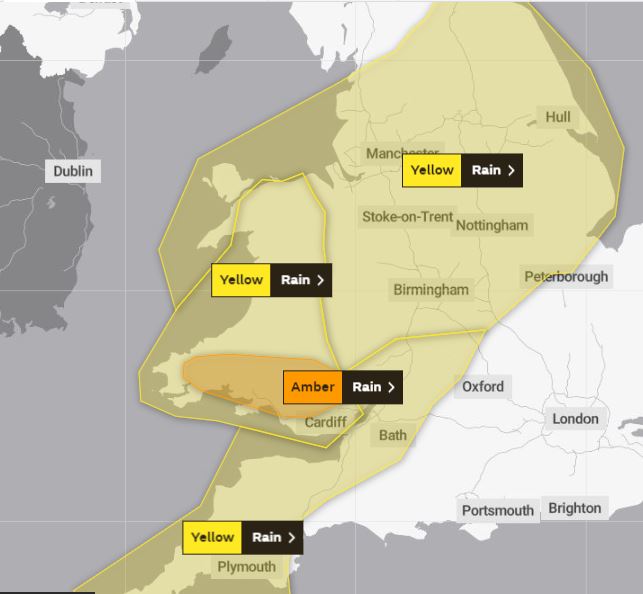 The rain warnings are valid for;
Amber warning for much of South Wales from 6pm Friday to 11am Saturday
Yellow warning for much of the South West from 3pm Friday to 3pm Saturday
Yellow warning for much of Wales from 3pm Friday to 3pm Saturday
Yellow warning for parts of North Wales, central and northern England from 3pm Friday to 3pm Saturday
The frontal system bringing the rain – which stretches to the Azores archipelago - will slip south-eastwards from Saturday evening. This front marks the boundary between two air masses, with warm humid air to the southeast and much colder to the northwest.
A polar air mass will move in from the northwest bringing cold air across the country by Sunday. Temperatures will be below normal for all of us with widespread frosts away from windward coasts. This will be the first widespread cold weather since last winter.
You can get the most accurate and up to date forecast for your area using our forecast pages and by following us on Twitter and Facebook, as well as using our mobile app which is available for iPhone from the App store and for Android from the Google Play store.
Latest News from
Met Office