Saturday 04 Apr 2015 @ 07:15
Government Digital Service (GDS) Blogs
Better for less
Blog posted by: Liam Maxwell, 29 March 2015.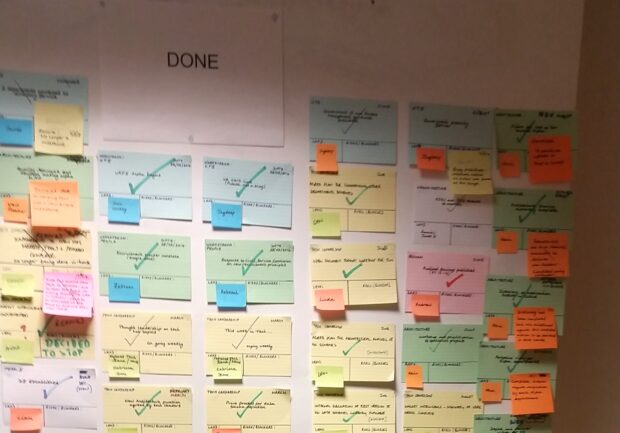 As this Parliament draws to a close, in the Office of the CTO we have been looking back at the past four years. Our mission was to clear away the obstacles that prevented us and our colleagues in departments from using technology to its fullest potential. With regular input from our Tech Leaders, portfolio managers and most importantly our end users, we've been delivering programmes to:
give civil servants the tools they need to do their jobs
avoid lock-in so we all have more choices to make about software and hardware
integrate networks, services and software across the Civil Service so we can deliver a government for the 21st century
return technology control to departments, by promoting and recruiting great technology leaders
save quite a lot of money, which has gone back to departments
Where we started
The tech world innovates faster and better than we can. Software companies, internet-based services, developers, start-ups… They've built amazing commodity services we in government might buy, written open source code we could use, and created agile methodologies that would have let us write code and manage our services to meet our users' needs. The R&D and hacking culture is wonderful at building stuff that changes our daily lives. The best part is, it's happening constantly.
But before we started in 2011, we in government had, historically, chosen stability over innovation. Modern ideas and developments couldn't be for us — we knew we had to suffer laptops that take 20 minutes to boot, IT contracts that delivered services that didn't meet most of our users needs, and networks and procurement outcomes that isolated us from our colleagues in other departments.
We had lost many of the skilled people who were crucial to forming and executing modern technology approaches. It was possible to have a great career in public sector technology …just so long as you worked for a private company that sold into the public sector.
A culture of silos, of procuring our way out of situations was the completely rational result of the incentives we had unwittingly created.
The result was that we weren't able to take advantage of the amazing developments that were revolutionising daily life for our businesses and citizens in every other part of their lives.
And that has been the crux of the past four years for us in the Office of the CTO: changing government so that we can take advantage of the best technology out there. Not just the best now, but the as-yet-unimagined innovations that we know will emerge in the months and years to come.
We are now designing our way forward, and that design focuses on user needs.
Taking control of our own destiny
One of the reasons for the technology revolution's impact on the rest of the world has been the "Click to buy" ease of getting new products and services. But we in government couldn't do that — our procurement rules and long IT contracts wouldn't let us take advantage of new innovations.
We began by breaking out of the lock-in in those contracts: splitting them up into smaller pieces with our Red Lines and bringing the architecture and service management back into the departments. We've launched an ambitious skills programme to support departments in making this change, but we've also implemented Spend Controls to make sure that when Chief Technology Officers (CTOs) and Chief Digital Officers (CDOs) were ready to take responsibility for their own technology, they would have the freedom to decide what they needed — not be tied up in a long contract.
We also created the Open Standards policy so that each department could have as many options as possible to meet their users' needs, at the point of purchase. Focusing on open standards also allows departments and teams to embrace a new, better software or service when it comes along. This flexibility is critical for the Civil Service to make the most of industry's best work.
Similarly, our Cloud First policy means that digital and technology services will be hosted in the cloud — so that we can easily switch providers as prices change or our needs move on. Industry is already catering to that kind of flexibility; we just needed to take advantage of it.
More broadly, GDS — with the Crown Commercial Service — created theDigital Marketplace, which allows suppliers from the G-Cloud and Digital Services frameworks to sell services and to bring government as close to online shopping as we can make it. There is still way to go, but it's many times faster and less work for us to buy services that meet our needs than was possible previously.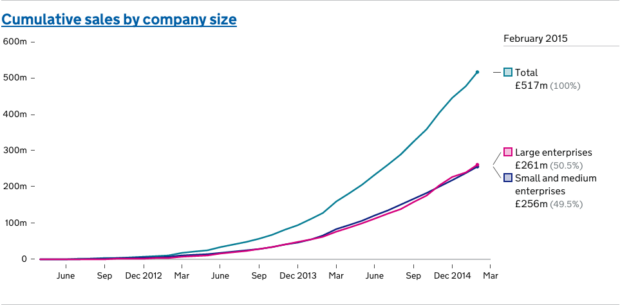 We've moved our tech architecture and management in-house, so that we can be sure we understand and are constantly meeting our users' needs with the technology and digital services we run.
This approach has prompted us to make a few changes across government as well, to make sure our technology leaders weren't held back by the old rules.
We've cleared the way for open source technology, recognising that making things open does indeed make things better. Any code we write is more effective if it's built on established and supported libraries and frameworks. Our software is more robust when members of the public can see it and contribute to it.
We're also making sure that tech architects and service managers can reach directly to specialists technology firms like data analytics or hosting, which previously had been obscured behind large contracts with systems integrators. This means that our technologists have the freedom to choose the best innovators in industry to work with, and because their contracts are short, underpinned by open standards and clean APIs — they can switch to a new company that will better meet their users' needs in the future.
We've overhauled IT governance in government. Before 2013, to get a decision made, we had to jump into this mass of committees, boards and points of accountability. The number of processes, people involved and sign offs meant that it was not only confusing but also time consuming. Rather than outcomes, we were being held up in continuous loops of outputs.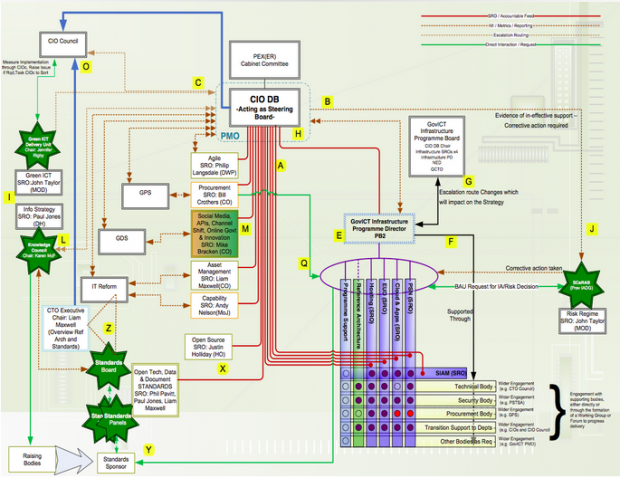 Technology governance before 2013
We're dramatically simplifying that landscape by organising everything into four functional areas:
Mission IT: Technology Leaders Network
Digital public services: Digital Leaders Network
Infrastructure: Technology Leaders Network
Shared services: Next generation shared services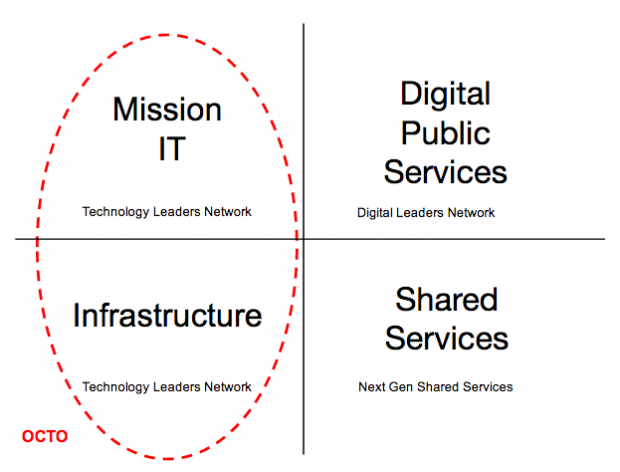 Technology governance now: simpler, clearer and faster
As a government, we can manage each of these in ways that are practical for to implement and make sense to us and our colleagues in departments. We'vecreated the Technology Leaders Network, with representation from across government, so that we can develop technology policy together, collaborate on common services and create a consistent, high quality user experience.
With the Tech Leaders network, we've consolidated our guidance on designing, buying and building technology to best meet user needs in theTechnology Code of Practice (TCoP). As fast as technology is advancing,we're updating the TCoP to take advantage of the exciting developments in the broader tech world.
Technology as good as you have at home
While government had been tied to desktops with locked-down operating systems, heavy security requirements that often weren't appropriate to what they were protecting, and wired networks we could manage simply by ensuring the devices didn't move — office technology has moved on in leaps and bounds. In fact, much of it isn't just in the office anymore.
With the Cabinet Office Technology Transformation, we delivered modern, flexible technology services that are at least as good as those people use at home. Laptops, wifi, the ability to move around the building or work from somewhere else — these are office tools the rest of the world had taken for granted. We set up device-agnostic platforms that allow us to tailor the services to what the Civil Servants in Cabinet Office need, and — as a result — things are cheaper than those previously in place.
We're now expanding this approach to the Department for Culture, Media and Sport and the Crown Commercial Service. Next up: helping a broader set of departments, under the name of Common Technology Services.
Tidying up what we already have
As we went about opening government to take advantage of all that technology has to offer, we also found a few opportunities to better manage our existing systems and approaches.
Not every tech service in government is ready for cloud hosting, so where the Cloud First policy isn't an option, we've created Crown Hosting Data Centres. This provides a secure and cost effective home for our legacy estate of servers.
We took over the Public Services Network, reorganising it around user needs to make it simpler, clearer, and faster.
We've been working with CESG to deliver a modern, sensible approach to information security that enables government to make better technology decisions.
And we founded the D5, a group of the five most digitally advanced governments in the world, so that we can learn from each other's successes and struggles.
Can't put freedom back in the bottle
Together with departments we've made great strides in clearing the way for government to make the most of technology, now and in the future. Throughout, we've keep our focus on our drivers:
focusing on user needs, ensuring that technology becomes so good that our colleagues, citizens and businesses want to use it
putting outcomes first; such as reductions in cost per transaction, increases in task completion
using 'openness' to our advantage – open data, open standards, open source, open markets
As a result, over the course of this Parliament, we've achieved some significant outcomes. We have:
helped departments save hundreds of millions of pounds in taxpayers' money a year – every year
returned control to departments so they can build and buy the technology they need
helped departments avoid lock-in so they have more choices to make about their software and hardware
We can't rest on our laurels though; we've made a good start. Government computing is getting reduced to the right size — the compute required is remarkably small; we had just made it very complex. Government computing is now more open, more flexible… We actually have a centre that understands where it all is and how much of it links together. Government technology will, in the next couple of years, start to link together departments, functions and services to meet even more of our users' needs.
This is why the approach to government as a platform is the next logical step. We will look forward to sharing our ongoing progress through the next Parliament.
Latest News from
Government Digital Service (GDS) Blogs