Friday 10 Feb 2017 @ 09:15
NHS England
Building Bridges to make devolution and integration happen – Jon Rouse
Blog posted by: Jon Rouse, 09 February 2017.
Ahead of the CNO Summit in Birmingham on March 14 and 15, the Chief Officer for the Greater Manchester Health and Social Care Partnership looks at a different way of delivering health care:
You may never have heard of Platt Bridge. It's a community in the heart of the Metropolitan District of Wigan. It's not pretty, not wealthy.
In Platt Bridge, they do public service differently. In the heart of the neighbourhood there is a run-down community building. Inside you'll find a team. You might find the neighbourhood police officer – usually in plain clothes – adult social care workers, housing officers, children's workers, someone working in addiction services, a mental health support worker or some other combination. You certainly won't know who's who unless you ask them.
Every morning they group over a cup of tea, talk about residents and situations, some long-standing, some arisen overnight. They work out strategies, plan referrals. And then it's out into the community.
In Platt Bridge the local State has built something special, it's called trust. It's built through time, through experience, through presence. It exists because in Platt Bridge the local public sector proceeds from different sorts of questions – what is good in this place, what is positive in this situation, what are the strengths of this person? The questions flow from a value system that believes that people are gifted, resourceful and able, whatever their immediate, prevailing context.
This was the thinking behind The Deal – a pioneering reform programme launched by Wigan Council three years ago in response to budget cuts. The aim of this mutually beneficial partnership is to encourage residents to become more independent and less reliant on public services. And it's working.
Volunteers are running libraries and swimming pools, community groups are delivering activities for residents in the community care system, first aid courses are being led by qualified parents in children's centres and those who were once participants in exercise classes are now the instructors. It's about looking at what assets you have in the local community and supporting them. And this approach is now being embraced by the local NHS.
With this mind-set you see things differently. The manager of a local fast food take-away complains that kids are hanging around outside. It turns out they are there because they can access the Wi-Fi. The local betting shop manager tells the local office he is worried about an unemployed man in his fifties that sits in his shop all day every day. The team tap into his loneliness and get him involved in more purposeful activities.
A girl with dyslexia, struggling at school, hangs around outside the office at a loose end in the summer holiday. The team get her to the community library and challenge her to find out and write down five facts about a subject she loves by the next day. She does it, not just that day, but a different subject every day for six weeks. She goes back to school much more confident.
This is public service in the twenty-first century – adaptive, relationship-based, creative and team-oriented.
I've heard people say that asset-based community development dumbs down professionalism but it doesn't. Whether you are a nurse or a social worker, you are still every bit that professional, applying those skills on behalf of individual and community, with an even greater need for reflective supervision and continuing development. But you are that professional and then some, deploying a wider range of competences that draw on an emotional and cognitive palate that can't just be learnt in a classroom.
In the future, these jobs will be some of the most important jobs in public service, working upstream, at the source of problems and difficulties, saving vast sums of money through prevention and early intervention. They won't be jobs for everyone. They will have to be recruited as much on values, as they are skills; on emotional range, as well as technical know-how.
For those professionals who do get the chance to operate in these multi-disciplinary teams in the heart of communities, the rewards will be great – to see people and communities strengthen and thrive, to see lives changed and ambitions realised, to care for the whole person, not just the immediate wound. And the good news is that these same values and skills can be demonstrated across the spectrum of health and care. It is the same mind-set that focuses on rehabilitation and timely discharge on the hospital ward that anticipates future care needs in the GP surgery that seeks to maximise personal choice and control in the planning of care.
We talk a lot about integration of health and care services, but it has to be integration for a purpose. Working together gives us a better chance to know people, understand their strengths as well as their needs, and to empower them to take more control over the situation that they face. And that is a goal to which we can all contribute.
Integration, devolution and Sustainability and Transformation Plans (STPs) is a key theme of the 2017 CNO Summit and will focus on examples like Platt Bridge and the role of nursing, midwifery and care staff to develop and lead the health and care system of the future.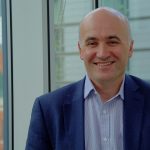 Jon Rouse was appointed Chief Officer of the Greater Manchester Health and Social Care Partnership in August 2016.
Before joining the Department of Health as Director General for Social Care, Local Government and Care Partnership in 2013, Jon was Chief Executive of the London Borough of Croydon, following similar roles at both the Housing Corporation and the Commission for Architecture and the Built Environment.
He has also held a wide range of non-executive positions with organisations including English Partnerships and Homelessness International and was a non-executive director on the Department of Health's board until 2010.
Latest News from
NHS England