Thursday 18 Oct 2018 @ 12:25
Government Digital Service (GDS)
Building a better GOV.UK, step by step
Blog posted by: Sam Dub and Gabrielle Acosta, 17 October 2018 – Categories: Content design, GOV.UK, Service design, Services Programme, Style, content and design.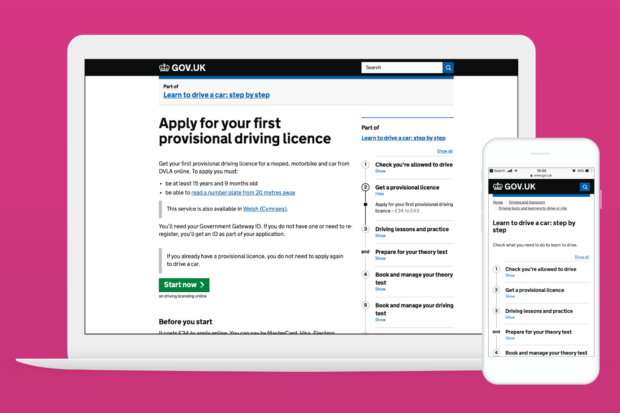 The 'Apply for your first provisional driving licence' step by step navigation page
Since GOV.UK launched 6 years ago it has been the home of government's online content and the starting point for online services.
Every week millions of people use GOV.UK to do complex and sometimes life-changing tasks, such as learning to drive, registering a birth or starting a business.
We want to make these tasks as easy as possible - by making content simple and user journeys intuitive. This is good for users because it makes it quicker to get things done. And it's good for government because it reduces unnecessary contact and casework.
Why we need to look at end to end services
We know users face challenges carrying out tasks. There's a lot of information to find for a start. Depending on the task, there might be appointments to book, forms to fill in, applications to be made and tests to take.
And what makes this even harder is that each step needs to be done at the right time and in the right order.
That's why government needs to look at every step of this task. From the first thing the user does, to the last thing they need to do. We need to look at services from end to end.
The difficulty government faces when trying to make this easier is that people's real-world tasks do not always fit neatly with the way government is organised into departments and agencies.
For example, a business wanting to hire their first employee needs information and services from 5 different areas of government before they can hire them:
| Step | Government department or agency |
| --- | --- |
| Check you can afford to take on an employee | Department for Work and Pensions |
| Register as an employer | HM Revenue and Customs |
| Check a potential employee's right to work in the UK | Home Office |
| Check a potential employee's criminal record | Disclosure and Barring Service |
| Set up a pension scheme | The Pensions Regulator |
Organising GOV.UK by topic and task
Rather than organise GOV.UK around the structure of government, we've been working to organise content around user needs at scale. So, rather than being organised by department, content on GOV.UK is now organised into a single site-wide system of user-centred topics.
This topic structure will power new ways to search and browse the site, making things much easier to find.
But we want to go further – we want to make things easier to do.
So about a year ago we started experimenting with a new way for users to navigate GOV.UK. These experiments evolved into what we now call step by step navigation.
Click here for the full blog post
Latest News from
Government Digital Service (GDS)