Wednesday 13 May 2020 @ 15:05
Civil Service
Celebrating Civil Service flexible working staff networks – past and present
Blog posted by: Brian Stanislas, 13 May 2020 – Categories: A great place to work, Diversity and inclusion, Year of Inclusion.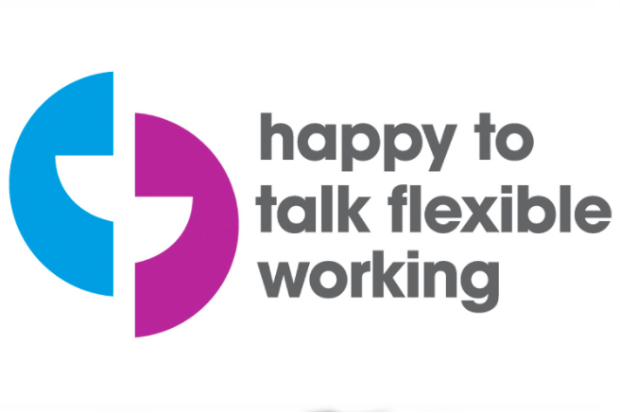 Government Chief People Office Rupert McNeil wrote in a recent blog post about the importance of staff networks in providing a space for staff to have their voices heard and discuss the issues they face.
To mark National Day for Staff Networks (#AddingValue), I want to focus on two prominent flexible working networks within the Civil Service:
the Civil Service Job Share and Alternative Working Network (CSJSAWN); and
the Cross Government Flexible Working Network (CGFWN).
In truth, it is more about the evolution of one network broadening its reach and remit over time to expand from job sharing to a wide range of flexible working patterns and practices – that is, CSJSAWN evolved to become the CGFWN!
Civil Service Job Share and Alternative Working Network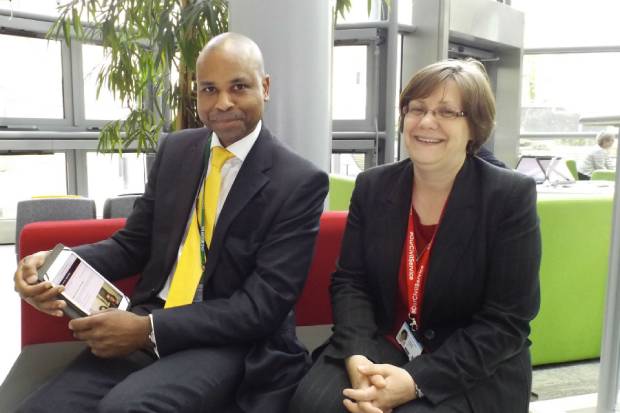 Brian Stanislas and Caroline Thomas (MOJ), Chair of the Civil Service Job Share and Alternative Working Network, in 2016
The Civil Service Job Share and Alternative Working Network (CSJSAWN) was set up in 2016. It supported the objectives of the Talent Action Plan 2016* in a variety of ways. The network was an evolution of the original Civil Service Job Share Working Group formed in 2013.
In 2014, the Civil Service Job Share Working Group started working with Civil Service Resourcing on the development of the Civil Service Job Share Noticeboard (renamed Civil Service Job Share Finder).
The Civil Service Job Share Finder helps civil servants find others with whom to form successful job share partnerships. The site launched in 2015 and, to date, more than 3,500 colleagues (AA to SCS grades) have signed up to the service.
In 2017 the CSJSAWN delivered job share and part-time working presentations at all six Civil Service Live event venues around the UK.
In July 2017 the Civil Service was Commended in the Best Public Sector Organisation Category at the Working Families Special Awards 2017. The award citation said: "The Civil Service has shown consistent leadership and innovation in flexible working and inclusion."
* The Talent Action Plan 2016 was superseded by the Civil Service Diversity & Inclusion Strategy in 2017.
Cross Government Flexible Working Network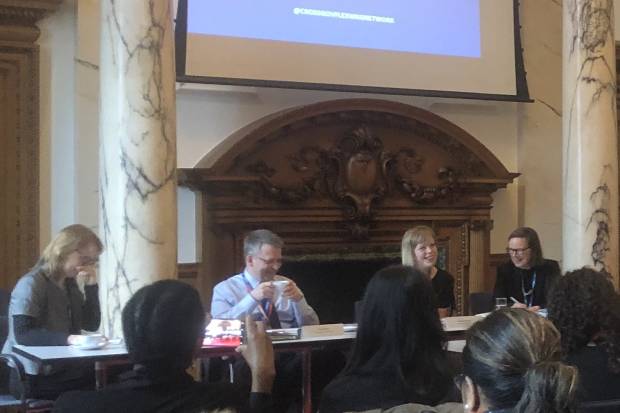 Left to right: Claire Campbell, Programme Director Timewise, Stuart Miller, Department for Education, Camilla Bellamy, PHE Deputy Director & Chair of CGFWN, and Jane Van Zyl, CEO, Working Families, at the CGFWN Event, London 2019
Building on civil servants' interest in a wider range of Flexible Working options, the Cross Government Flexible Working Network (CGFWN) was launched in 2018.
CGFWN supports the development of a flexible working culture across government. Its objectives are to:
help influence and shape the culture across government through the development of flexible working initiatives that will assist departments to understand how flexible working can help deliver their strategic aims more effectively;
understand current practice and culture to improve and share best practice;
act as advocates for flexible working, sharing value for money, sustainability, motivation and health and wellbeing benefits of best practice; and
act as a source of advice/information and support to colleagues across the Civil Service.
What has the CGFWN delivered?
On 6 March 2019 the network held a Cross Government Flexible Working and Wellbeing event at 100 Parliament Street London in the famous Churchill Room. As part of the promotion for the event, the network created a video, published on Twitter, featuring CGFWN members and a message from Sir Mark Sedwill, Cabinet Secretary and Head of the Civil Service.
Also in 2019, CGFWN member Edward Barker (Director in the Department for Environment, Food & Rural Affairs) published his blog about being a male senior leader in a job share.
As a representative of CGFWN, I worked in collaboration with Civil Service Employee Policy to refresh the Civil Service Flexible Working Gateway guidance for colleagues and their line managers.
Work and activities related to the CGFWN have also gained accolades and recognition:
five departments represented within the CGFWN featured in the Working Families Top Family Friendly Employers 2019 list of 30 organisations, with Crown Prosecution Service and Public Health England named in the Top Ten, and FSA, IPO and MOJ in the list from 11 to 30; and
the CGFWN contributed significantly to the Civil Service's winning the Flexible Employer category in the Timewise Power 50 Awards 2020. The award highlights how the Civil Service champions flexible working through a range of services and portals including Civil Service Careers and Civil Service Job Share Finder. The Civil Service was one of only two employers in the Power 50 Flexible Employer Award Winners category.
Looking ahead to the 'new normal'
Over the coming months, there is an anticipation that we will eventually return to work in our offices in some form or variation of a 'new normal'. Hopefully, the lessons learned from our 'working from home' experience during the coronavirus period will be an unexpected and welcome bonus to enhance better work/life balance for all.
And finally, I have been appointed Co-Chair of the Cross Government Flexible Working Network with Camilla Bellamy who has been the Chair of the network since it launched in 2018.
If you would like to hear more about what CGFWN does, or to get involved in network activities, email enquiries.csjobsharefinder@cabinetoffice.gov.uk, or follow CGFWN on Twitter at @CrossGovFlexWkNetwork.
You may also be interested in:
What inclusion means to me... Majella
Latest News from
Civil Service