Friday 02 Jun 2023 @ 14:10
Big Lottery Fund
Community groups across the UK celebrate after winning public vote for National Lottery funding
Hard-working community groups across the UK have won a share of over £4 million in National Lottery funding in this year's The People's Projects. After going head-to-head in a public vote, 57 projects nationwide won people over with their plans to make a life-changing difference in their local communities.
By securing the support of the public they have scored valuable funding of up to £70,000 thanks to National Lottery players, which they can now put to good use in their local area.
Amongst those to be funded are: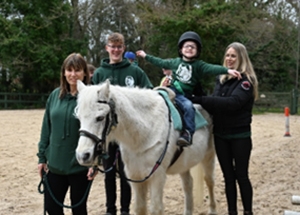 Thanet Disabled Riding Centre
Essential Running Costs - Keeping Thanet Disabled Riding Centre Open by Thanet Disabled Riding Centre in the south-east of England will use £63,880 to provide tailored riding sessions to the disabled community, including exercises and fun games to enhance riders' strengths and working to improve any areas of weaknesses. The aim is to expand the service to help more riders improve their quality of life and overall wellbeing.
Giving Children with Down's Syndrome a Voice by Hands Up For Downs in Swansea, Wales will use £53,760 to support children with Downs Syndrome to achieve their full potential, by organising weekly speech and language therapy sessions in and around Swansea. The project will enable children with Down's Syndrome to be able to speak for themselves, and see learning to communicate as vital.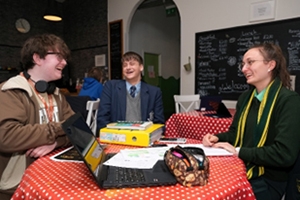 Crisis Café
Social Bytes by Crisis Café in Newry, Northern Ireland will use £69,740 to create an informal drop-in space for local young people to access digital technology, WiFi, mental health support and a free meal. Led by young people, the project will help them to learn skills, make friends and support each other.
Visit www.thepeoplesprojects.org.uk to see a full list of winning projects across the UK.
The People's Projects sees The National Lottery Community Fund, ITV, UTV and the Sunday Mail (in Scotland) working together to give the public a unique say in how National Lottery funding should be invested in their local area.
Shortlisted projects get to showcase their work on ITV, UTV or in the Sunday Mail, raising awareness and support for what they do as well as putting them in with a chance of receiving valuable funding.
In each region, the three projects with the most public votes have received grants of up to £70,000. The runners up in each region have been offered £10,000 towards their project, bringing the total funding awarded communities across the UK to over £4 million. This funding will help make a real difference to people's lives, particularly in these difficult times.
Since The People's Projects started in 2005, it has awarded around £45 million to over 1,000 good causes, delivering vital grants to the heart of UK communities.
Click here for the full press release
Latest News from
Big Lottery Fund