Thursday 08 Aug 2019 @ 10:15
Ofgem
Energy caps to fall this winter due to lower wholesale costs
The default price cap is set to fall from £1,254 to £1,179 from 1 October for this winter period (October-March). The pre-payment meter cap will fall from £1,242 to £1,217 per year for the same six month period.
The level of the default price cap, which protects around 11 million default tariff customers, will fall this winter by £75, driven by lower wholesale energy prices
The level of the pre-payment meter cap falls by £25 for around 4 million customers after its methodology is brought into line with the default price cap
The caps protect around 15 million customers in total from being overcharged and they can save even more by shopping around
As a result, energy bills will fall this winter for around 15 million households who are protected by the price caps.
Wholesale energy prices have significantly fallen between February and June 2019. A combination of low demand during the winter, strong gas supply and relatively healthy storage levels have pushed down wholesale prices, resulting in the reduction of both caps.
The wholesale energy cost element of the default tariff cap fell by £75 to £446 while other costs, such as VAT and supplier profits, fell slightly.
These reductions offset cost increases totalling £7 of other elements such as operating costs, network charges and environmental schemes, resulting in an overall reduction of £75 in the level of the default tariff cap.
Last month, the Competition and Markets Authority decided to bring the methodology for calculating the pre-payment cap in line with the default cap.
Following this change, the level of the pre-payment meter cap is higher than the default tariff cap. The pre-payment meter cap now fully reflects the higher cost of providing energy to these customers (incurred by operating pre-pay keys and cards used to top up pre-payment meters).
Dermot Nolan, chief executive of Ofgem, said:
"The price caps require suppliers to pass on any savings to customers when their cost to supply electricity and gas falls.

"This means the energy bills of around 15 million customers on default deals or pre-payment meters will fall this winter to reflect the reduction in cost of the wholesale energy.

"These customers can be confident that whatever happens, the price they pay for their energy reflects the costs of supplying it.

"Households can cut their bills further in time for winter, and we would encourage all customers to shop around to get themselves the best deal possible for their energy."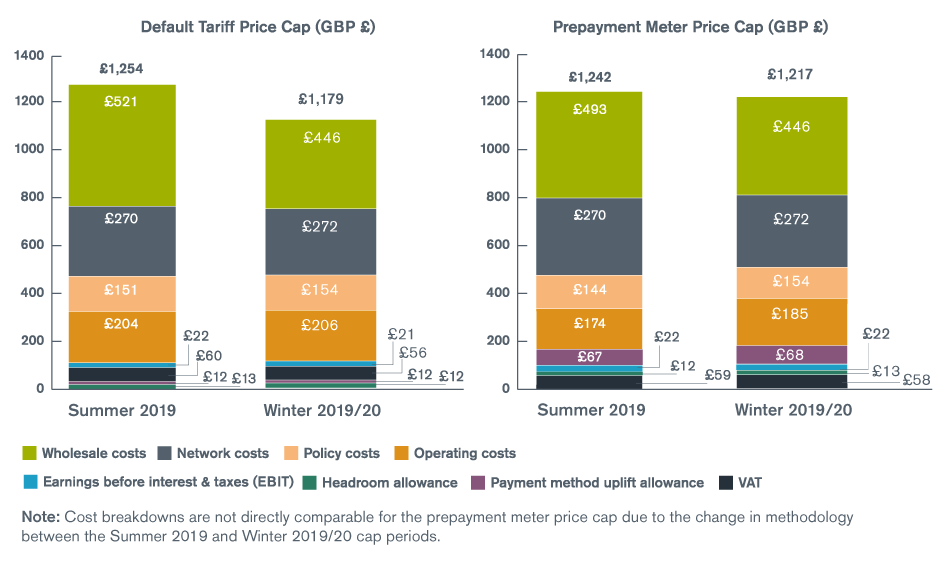 Click here for the full press release
Latest News from
Ofgem