Wednesday 21 Sep 2016 @ 14:25
Department of Health
Exploring export options at the Health and Care Innovation Expo
NHS organisations joined market experts and overseas decision makers to explore opportunities for international commercial collaborations.
Over 200 delegates at NHS England's Health and Care Innovation Expoattended Healthcare UK's seminar and meeting programme to explore commercial opportunities available around the world.
Deborah Kobewka, Managing Director of Healthcare UK, commented:
There is such a broad range of opportunities overseas for our healthcare sector. The Health and Care Innovation Expo provided Healthcare UK with an exceptional forum to meet with NHS providers to showcase these and highlight the support which is available to get organisations started on their exporting journey.
Specialists from Healthcare UK and the Department for International Tradeshared their expertise in the healthcare sector in China, India, Saudi Arabia, Kuwait and the UAE.
Healthcare UK welcomed special guest Dr Sebastian Garcia-Saiso, General Director for Quality of Health Care and Education in Mexico's Ministry of Health. Dr Garcia-Saiso gave an overview of the opportunities and challenges within the Mexican health system.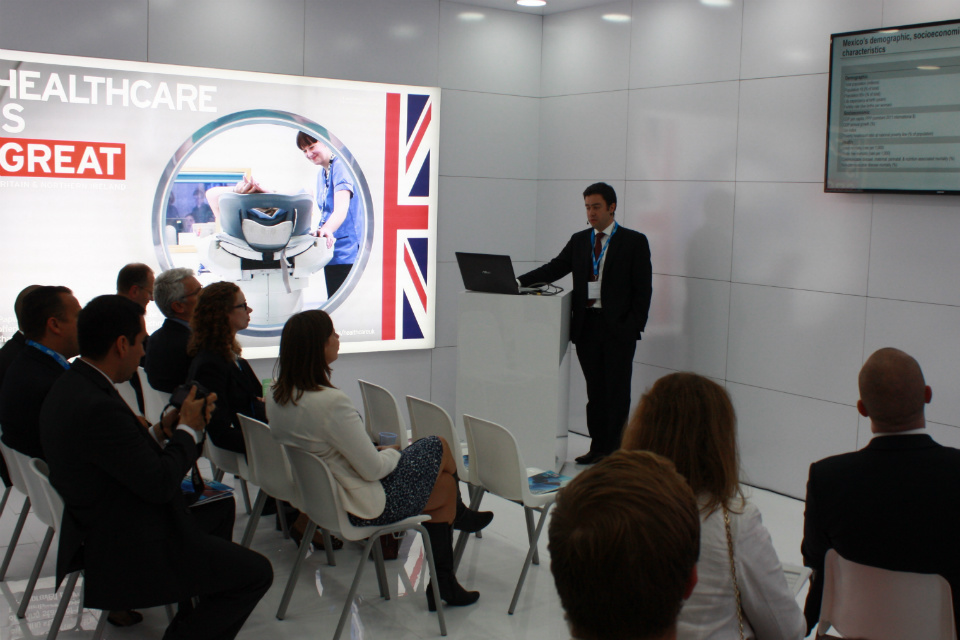 Dr Sebastian Garcia-Saiso presenting during the Healthcare UK seminar programme
Support for UK healthcare organisations
Healthcare UK's programme highlighted the support available to UK organisations seeking to develop overseas revenue streams, as well as celebrating the successes of those already engaged in international commercial partnerships.
Deborah Kobewka delivered a dedicated session on Healthcare UK's role. Kevin Ledwith of UK Export Finance also hosted a seminar on the financial support mechanisms available to UK organisations to help them do more business overseas.
The UK International Healthcare Management Association (UKIHMA) was represented by Ken Grant of Mott Macdonald, a founder member of the association, and several of the Association's NHS members. These included Guy's and St Thomas' NHS Foundation Trust and Alder Hey Children's NHS Foundation Trust.
Mr Grant explained the way in which the members of the association work together to respond to overseas projects. He also commented on how partnership can be critical in providing members with more ways to get involved in opportunities, as well as presenting a more compelling offer to overseas partners.
Click here for full press release
Latest News from
Department of Health