Wednesday 09 Jan 2019 @ 08:15
Scottish Qualifications Authority (SQA)
Glasgow's college stars light the city with their achievements
Three innovative projects delivered by staff at Glasgow Clyde College were recognised earlier this year by the Scottish Qualifications Authority for the diverse opportunities they gave to students across the city.
The three programmes – the Glasgow School-College Inclusion Programme; the GCC Lifelong Learning Centre; and the introduction of a new Higher National Diploma in Counselling – were all named winners at this year's SQA Star Awards, which were presented at a glittering ceremony in the city's Kelvingrove Art Gallery and Museum.
In partnership with Glasgow City Council, Glasgow Clyde College has championed the Glasgow School-College Inclusion Programme, which sees young people from across the city who are disengaged with the traditional school environment undertake SQA qualifications at the college.
Nicola McKenzie, Development Manager with the city council's Enhanced Vocational Inclusion Programme, described the initiative as an alternative for young people who have found it difficult to engage with mainstream education and who are at risk of not fulfilling their potential. Nicola said: "We recognise that the qualifications are able to re-engage young people, they are able to meet their needs and offer them something different."
The programme team were presented with SQA's Promoting Inclusion award, and also received SQA's Pride o' Worth Award – the top award for schools and colleges delivering SQA qualifications.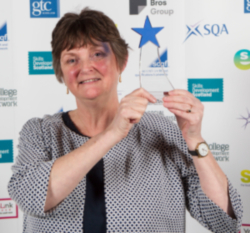 The college was also recognised for its Community Learning and Development team's (represented by Sheila White at the SQA Star Awards, pictured r) work offering literacy, numeracy and language courses to parents, for whom English wasn't their first language, or who had previously had difficult experiences with school and formal learning, so they can play a more active role in their children's education.
Kerry, a student at GCC Lifelong Learning Centre, says she can now help her daughter with her mathematics homework: "We're doing the work together, which is really good, because before doing this course I would never have been able to help her with it."
Alan Milson, Community Learning and Development Officer, says that gaining a recognised qualification is encouraging many of the learners to consider taking their education to the next level. For Kerry, the initiative has given her the confidence to pursue her ambition of becoming a teaching assistant.
Teaching staff at the college were also recognised by SQA, as senior lecturer Kirsten Amis (r) was named SQA Champion for her work developing a new Higher National Diploma in Counselling.
Describing the value of the course, Kirsten said: "Through the HND, students now have a progression route that can lead them on to professional practice, without incurring the costs associate with a degree programme. The HND doesn't cut corners or reduce the standards, but it does mean the course can be delivered in the colleges students are familiar with, making it more accessible to them."
David Macallan, a fellow lecturer at Glasgow Clyde College, says Kirsten's determination was key to the development of the qualification. He adds: "It has been brought about by her passion. Thanks to her drive for this, we now have people from all walks of life that are able to study, and then help the people that need them the most."
Jon Vincent, Principal Glasgow Clyde College, said: "I am delighted that the work of Glasgow Clyde College has been recognised across such a wide range of categories at the SQA Star Awards, and in particular, to receive the Pride o'Worth (Centre) award. Winning these awards recognises the commitment and dedication of staff across the College in supporting students and we look forward to working on some more exciting projects in 2019."
Derek Houston, SQA regional manager for Glasgow, said: "Every year I am amazed by the stories of achievement, ingenuity, and accomplishment that emerge from schools and colleges delivering SQA qualifications, and the success stories produced by Glasgow Clyde College are no exception. The college is providing exciting new learning opportunities for people across the city who may previously not have engaged in education, and realised their potential. It's fantastic to see the positive outcomes that SQA qualifications have, and they are transforming the lives of learners across the city."
Latest News from
Scottish Qualifications Authority (SQA)