Monday 05 Dec 2016 @ 14:20
Ministry of Defence
HMS Enterprise praised for saving lives in the Mediterranean
HMS Enterprise has saved more than 9,000 lives while operating in the Mediterranean.
UK Armed Forces Minister Mike Penning yesterday (Sunday) praised the Royal Navy vessel for her contribution to Operation Sophia, which is focused on tackling human smugglers and arms traffickers who endanger the lives of migrants seeking travel to Europe.
Of around 30,000 migrants rescued during the operation to date, Enterprise has saved over 9,000, as well as denting the activity of criminal gangs. She will now hand over responsibilities to sister ship HMS Echo.
Enterprise is currently alongside Gibraltar, and Mr Penning was able to personally thank members of her crew during a visit to the British overseas territory.
Aboard the ship yesterday, he presented Enterprise with the Firmin Sword of Peace in recognition of her service.
Minister of State for the Armed Forces Mike Penning said:
Through the stellar efforts of HMS Enterprise and her crew, the Royal Navy has continued to provide vital support in the Mediterranean, saving thousands of lives.

We remain committed to this operation, which is hitting the criminal gangs responsible for putting innocent lives at risk, and HMS Echo will continue the UK's contribution.
Philip Harper, Commanding Officer of HMS Enterprise, said:
After two and a half years deployed away from the UK, and with another four months yet to run, my ship's company are very proud to have received the Firmin Sword of Peace for their lifesaving efforts.

This award recognises not only the commitment of my sailors, but also the sacrifices made and separation endured by their families.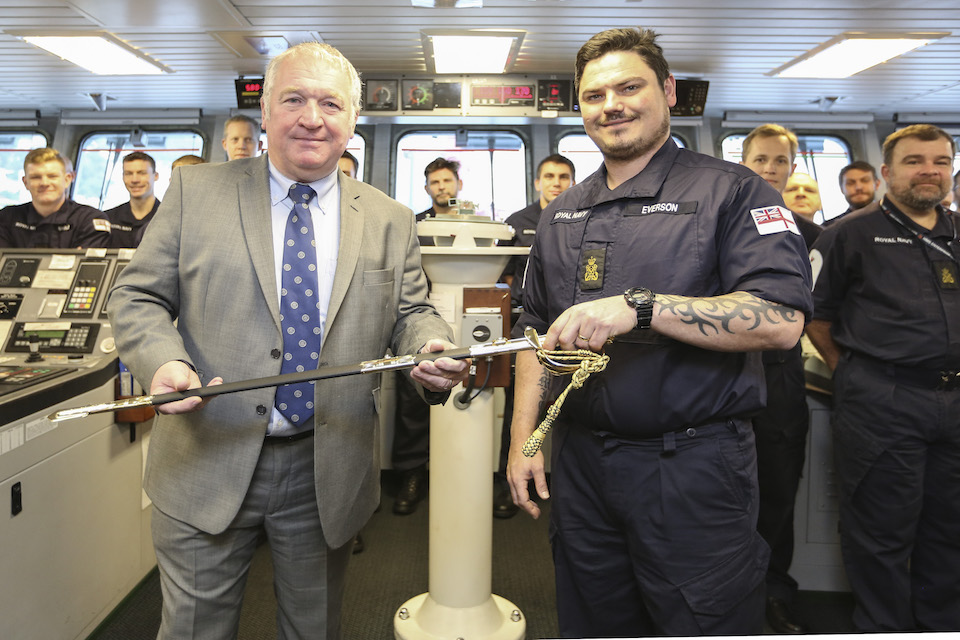 Credit Cpl Tim Hammond
During his visit to Gibraltar, Mr Penning was given a tour of Enterprise by Cdr Harper, and presented a number of other medals and awards to individual members of the ship's company.
In addition to Enterprise, several other Royal Navy ships have deployed to support operations in the Mediterranean.
This includes HMS Bulwark, HMS Diamond, HMS Richmond and RFA Mounts Bay.
Following support provided to the operation since July, Mounts Bay will now return to the UK to prepare for redeployment to provide security and assurance to British overseas territories in the Caribbean.
There she will be involved in counter-narcotics patrols, and will be on standby to support disaster relief operations, including carrying emergency relief.
Latest News from
Ministry of Defence