Tuesday 02 Feb 2021 @ 16:20
Association for Project Management
HS2 - Equality, Diversity and Inclusion webinar
Osita Madu shared his thoughts and knowledge whilst providing you with an opportunity to ask your questions on 26 January 2021.
This session covered the following key areas;
Why EDI matters to HS2.
Workstreams on EDI.
What good looks like.
How we measure and report success.
Challenges for the year ahead.
Osita has very kindly allowed his presented material to be made available for viewing. The webinar recording on YouTube is now available in our APM resources area and also embedded below for reference.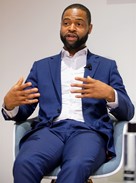 Osita Madu, Equality, Diversity and Inclusion Manager Supply Chain, HS2 Ltd
Osita is a CIPD qualified Human Resource professional with 18 years' experience spent specialising in employee relations, recruitment, training, mediation and diversity and inclusion. He has made the most impact by developing, influencing, implementing and managing diversity across various sectors from local authorities, housing, media, banking and most recently the infrastructure programme at High Speed Two.
Previously Head of EDI at HS2, he joined the organisation in June 2016, where he has won a number of awards and gained recognition for his innovative approach to inclusive procurement and tendering for all major suppliers to HS2.
This event is organised by APM Emerging Professional Network.
Previous webinars can be viewed on the APM YouTube channels. Follow @APMEvents for upcoming event information.
This event is suitable for professionals with any level of experience.
Click here for the full press release
Latest News from
Association for Project Management