Monday 27 Jun 2022 @ 14:10
Big Lottery Fund
Hertfordshire community group receives National Lottery funding to improve the lives of people with cancer
A community group in Hertfordshire has received £10,000 of National Lottery funding to deliver cancer exercise rehabilitation and support group sessions for people living with – and recovering from – cancer.
Herts Coaching Association will use funding from The National Lottery Community Fund, the largest funder of community activity in the UK, to run three weekly physical activity sessions, followed by support groups, across Hertfordshire. The sessions are conducted by Level 4 Cancer Rehabilitation Specialists and will help people with mobility, strength and stamina as well as improving confidence and mental well-being.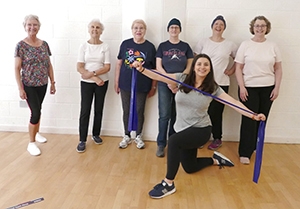 St Albans Group
In April 2021, Amanda Trubus was diagnosed with an advanced and aggressive form of Non-Hodgkin's Lymphoma. Retiring after 40 years as a primary care GP at the end of 2019, it wasn't 'quite the retirement she was expecting'.
"At the beginning of October, I had completed six rounds of chemo with good support from my chemo nurse and consultant. It was a brutal experience, but the good news was, the chemo had done a good job. There was still some residual cancer, so I had a three-week course of radiotherapy over the Christmas and New Year period at the Mount Vernon Cancer Centre," explained Amanda.
Following a further scan in April, Amanda was given the good news that she was in remission, but the intense few months had taken its toll.
Amanda recently said:
"Not only was I feeling weak physically having lost a lot of muscle, but I was feeling weak emotionally and mentally too. I had lost confidence and become quite anxious."
Amanda joined the Cancer Rehabilitation classes in February and has felt the benefits of the weekly classes both physically and mentally.
"It was such a positive experience and I look forward every Tuesday to meeting up, doing the helpful rehab exercises and then the best bit – tea or coffee afterwards where we can confidentially share our cancer journeys, worries, concerns, joys and good things too."
Amanda added:
"At the beginning of the 12-week sessions I completed a questionnaire about where I was on a well-being scale. As I am nearing the end of the course, I can honestly say I have progressed really well. It has been a great to welcome other cancer patients to the class and see them improve too."
Herts Coaching Association is one of over 270 charities and community groups across the East of England to have been awarded almost £6 million of National Lottery funding over the last three months*.
Alicja Polak, Programme Co-ordinator at Herts Coaching Association recently said:
"Since the pandemic, a lot of the social aspect have gone from groups and speaking with clients this is something that was missed. Our project allows participants to meet other people in a similar situation, to be open and share how they're feeling.

"Thank you to National Lottery players for supporting our project. Without this funding we wouldn't be able to exist and provide this vital support to people in Hertfordshire to build back their confidence with exercising."
Over the last three years, funding from The National Lottery Community Fund has reached every constituency and every local authority in the UK.
Helen Bushell, Senior Head of Regional Funding for London, South East and East of England at The National Lottery Community Fund, recently said:
"Thanks to National Lottery players, this vital funding will have a huge impact on people's lives across Hertfordshire. Our funding plays a big role in helping communities to unleash their potential and it is great to see groups like Herts Coaching Association making a positive difference and continuing to support people in their communities."
National Lottery players raise over £30 million each week for good causes across the UK. In the last 12 months we have given out nearly £600 million to 12,500 organisations reaching every local authority and constituency in the UK.
To find out more visit www.TNLCommunityFund.org.uk
Notes to Editors
* These figures are for funding awarded from 26 February 2022 – 27 May 2022.
About The National Lottery Community Fund
We are the largest funder of community activity in the UK – we support people and communities to prosper and thrive.
We're proud to award money raised by National Lottery players to communities across England, Scotland, Wales and Northern Ireland, and to work closely with Government to distribute vital grants and funding from key Government programmes and initiatives.
Our funding has a positive impact and makes a difference to people's lives. We support projects focused on things that matter, including economic prosperity, employment, young people, mental health, loneliness and helping the UK reach net zero by 2050.
Thanks to the support of National Lottery players, our funding is open to everyone. We're privileged to be able to work with the smallest of local groups right up to UK-wide charities, enabling people and communities to bring their ambitions to life.
National Lottery players raise over £30 million each week for good causes throughout the UK. Since The National Lottery began in 1994, £43 billion has been raised for good causes. National Lottery funding has been used to support over 635,000 projects – 255 projects per postcode area.
Website │Twitter │Facebook │Instagram
Latest News from
Big Lottery Fund