Wednesday 30 Sep 2020 @ 11:15
Nuclear Decommissioning Authority
'If diversity is about the mix, then inclusion is about making the mix work'
Blog posted by: Dipak Arya, NDA Group Head of Diversity and Inclusion, 28 September 2020 – Categories: Safety and Wellbeing.
Dipak Arya, NDA Group Head of Diversity and Inclusion
What is National Inclusion Week?
National Inclusion Week is a great opportunity to raise awareness of inclusion in the workplace. It's been a tough year and the way we think about work, health and wellbeing has probably changed forever.
The theme this year is 'Each One, Reach One', and comes at a time when employee engagement is becoming business critical. Our connections with family, friends and colleagues have become even more important during a time when we cannot shake hands or hug and are required to keep our distance, wear a mask, sanitise and wash our hands.
Organisations have had to rapidly adapt and move to more flexible remote and digital working, a huge logistical challenge. Inclusion has been about new ways of working, staying connected, safety, mental health and well-being.
Recent global events have dominated the news such as Covid-19 and Black Lives Matter campaigns around the world. These issues have highlighted that we still have inequalities in our society, health inequalities, and need to ensure social justice for all. We all have a role to play in creating an inclusive workplace and a more equal society.
My own personal journey this year includes leaving one company during a global pandemic and joining the NDA during lockdown. Leaving my team after 4 years was emotional, as I could not say goodbye to my colleagues in person.
Starting a new role with a large complex organisation from my dining room has been daunting and surreal. My boss and team have been welcoming and supportive.
In my first ever call with all employees of the NDA, chief executive David Peattie spoke about the importance of family, health and wellbeing, work-life balance, and his commitment to driving inclusion across the NDA group and the Nuclear Sector. For inclusion to become a reality, you need authentic leadership.
Why is inclusion important?
Employees feel a sense of belonging when they feel included and this brings positive results as they are more likely to engage. The NDA is charged with cleaning up the UK's earliest nuclear sites safely, securely and cost-effectively. We achieve this by caring for our people, communities and the environment. Inclusion is important to us as an employer and our local communities, it's at the heart of everything we do and integral to our mission. Put simply - diversity doesn't exist without inclusion.
If diversity is the mix – inclusion is making the mix work
The best leaders value diversity and create an inclusive workplace, where everyone feels listened to and included. If diversity is about the mix, then inclusion is about making the mix work.
A great place to work is one that values difference, where people can be themselves and thrive. We're proactive in driving inclusion across the NDA group of businesses. We've made good progress but recognise there's so much more still to do to raise awareness, address skills shortages and attract greater diversity into the wider Nuclear Sector.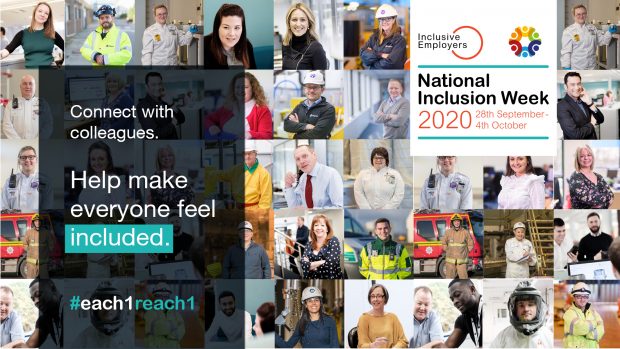 National Inclusion Week 2020
Getting involved
At the NDA, we're encouraging our staff to get together with colleagues to reflect and discuss inclusion and current diversity issues in their communities and globally. Just because we're not together as we perhaps were, most companies have the technology to be able to make this happen – talking about inclusion is even more important now than it was before. Over the week we'll be promoting and highlighting our important employee networks and launching two new ones; Race Equality and Disability.
What can we do to be more inclusive?
During lockdown, we saw the best of us in terms of community spirit, valuing frontline workers, helping the vulnerable, and being more charitable. Take the time to reach out to each other, get to know someone a bit better, have an inclusion moment, a cup of tea and a chat.
A moment to connect with others can boost our morale and wellbeing. If you haven't spoken to someone for a while at work, a family member or friend, drop them a text, Whatsapp, call or Facetime, just to make them smile!
Be kind to yourself and be kind to others.
What radioactive waste actually looks like
Cleaning up the
UK's nuclear legacy

Our purpose is to keep
Sellafield safe and secure
Latest News from
Nuclear Decommissioning Authority