Friday 19 Jul 2019 @ 14:15
National Institute for Health and Clinical Excellence (NICE)
Innovative approach that gets patients back into their own homes after hospital stay honoured
Newly introduced programme allowed those in hospital to reduce their length of stay by an average of six days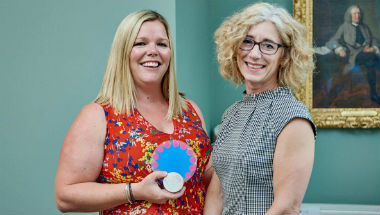 A project which aims to cut the time patients spent in hospital by promoting independence at every opportunity and prevents premature admission to care has been honoured.
Carolyne Hague was behind the programme which used NICE guidance on intermediate care, including reablement, to redesign the approach to bed based intermediate care at Royal Devon and Exeter NHS Trust.
The programme won the NICE Into Action award at the Chief Allied Health Professions Officer's awards ceremony in London
Carolyne yesterday said:
"I'm blown away that we've been awarded the NICE into Action award. It really is an honour for all the teams who have worked so hard on the project to achieve the targets we set ourselves. This project is all about collaboration and working as a team for the patients.

"Initially it was quite daunting coming in and suggesting people might do something in a different way when they've been doing it in the same way for many years.

"But as soon as people understood what we were trying to achieve, they bought into the project."
The award was launched to highlight the use of NICE guidance or quality standards in practice by either individuals or teams of allied health professionals.
The judges were impressed by the significant impact of the project which included:
A reduction in length of stay from 20 days to 14 days
Increase in patients returning directly home (55% to 69%)
Increased staff morale and skills
Positive patient feedback
The intermediate care, including reablement, guideline covers referral and assessment for intermediate care and how to deliver the service. Intermediate care is a multidisciplinary service that helps people to be as independent as possible. It provides support and rehabilitation to people at risk of hospital admission or who have been in hospital. It aims to ensure people transfer from hospital to the community in a timely way and to prevent unnecessary admissions to hospitals and residential care.
Annie Coppel, NICE associate director of field team (north) and sector lead for health, who sat on the judging panel yesterday said:
"We thought the work Carolyne led demonstrated impact across the health and care system which was delivered through strong multiprofessional leadership and totally underpinned by the guideline and quality standard produced by NICE.

"With energy and enthusiasm Carolyne used quality improvement and change methodologies to put our recommendations into practice, making great improvements in patient care. The work she and her colleagues did is transferable to other trusts around the country."
Carolyne was presented with the award by Annie, at the ceremony held at The Royal Society, in London.
The Chief Allied Health Professions Officer's awards aim to celebrate the significant contribution and impact of the allied health professions (AHPs) to improving health, care and wellbeing, at both a population and individual level and across the life course.
Runners up in the NICE into Action category were:
Dudley Falls Prevention Service, an integrated multi-agency service, combining NHS, CCG, Local Authority and Public Health services to provide multifactorial assessment and intervention to prevent falls.
Midlands Partnership Foundation Trust for the OASIS project to create a high quality and efficient treatment pathway based on NICE Guidance on the care and management of osteoarthritis.
Latest News from
National Institute for Health and Clinical Excellence (NICE)