Monday 10 Jun 2019 @ 12:43
Met Office
Intense rain and thunderstorms impact this week
A very unsettled spell of weather is expected to affect many parts of England and Wales this week. Rain and thunderstorms will be particularly intense across southern and eastern parts of England over the next few days.
The Met Office has already issued a series of National Severe Weather warnings out to Thursday, but these warnings are likely to be amended as certainty about impacts increase.
Today the Met Office has issued an Amber rain warning for London, Kent and adjoining areas from 3pm until 11pm as intense rainfall and perhaps thundery showers create impacts, especially during the evening rush hour. Showers will be somewhat hit-and-miss, but the worst affected areas could see 50-60mm of rain falling in the space of four to six hours. Surrounding the Amber warning, showing the area likely to witness the greatest impacts, a Yellow warning is in force for a larger area of east and southeast England from the Isle of Wight to the Humber Estuary. From tomorrow, the very unsettled weather is expected to become more widespread, with warnings of heavy rain extending more widely across England (as far north as the Scottish Borders) and into parts of Wales.
The intense rainfall and thunderstorms for parts of southern and eastern England are being triggered by a combination of heat across parts of central Europe and a low-pressure system approaching the UK from the south. As the low-pressure system moves closer, it will draw in warmer air from the continent. This combination of warmer, moist air and low pressure provides the ideal conditions for the rapid development of intense rain and thunderstorms.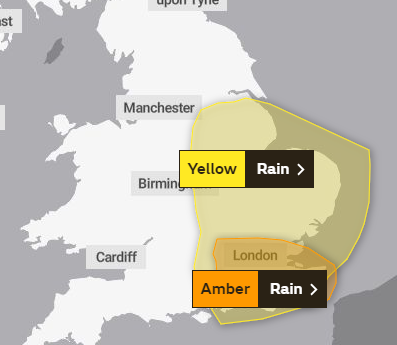 The warnings for Monday 10th June 2019
Steve Ramsdale is duty Chief Meteorologist for the Met Office. He said: "The development of weather conditions leading to thunderstorms and intense rainfall can happen extremely quickly, creating a challenge for forecasters. We have been able to indicate the likelihood of further spells of heavy rainfall for the rest of the week, but the exact details will remain uncertain until nearer the events. We will update warnings accordingly, but we urge people to continue to check the forecast and the app for updates during this period."
Away from the warning areas, the rest of the UK should see more settled conditions, especially in parts of Scotland and Northern Ireland.
You can get the most accurate and up to date forecast for your area using our forecast pages and by following us on Twitter and Facebook, as well as using our mobile app which is available for iPhone from the App store and for Android from the Google Play store.
Latest News from
Met Office