Tuesday 22 Aug 2017 @ 11:15
National Institute for Health and Clinical Excellence (NICE)
Local councils should make it easier for people with disabilities to be active, says NICE
NICE is urging local councils to make it as easy as possible for people with limited mobility to be more active in their area.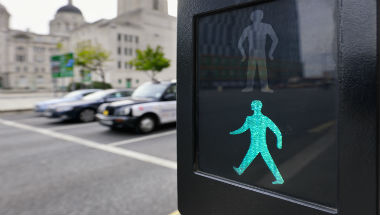 The guidance, aims to help people to be more active through improvements to the built environment and better access to the countryside.
Among a number of recommendations, the guideline advises authorities to encourage people to visit their parks and local open spaces.
There are new recommendations for people with reduced mobility. This could be people with disabilities, visual impairments or those who may find it challenging to get around, such as parents using prams.
NICE suggests that local councils should keep obstructions like parked cars, hanging baskets or bins out of the way on pavements.
NICE also recommends that pedestrian crossings should be made accessible for all. This would mean using dropped down pavements for wheelchair users, textured ground for people with visual impairments or allowing enough time for signals to change at pedestrian crossings.
Professor Mark Baker, director of the centre for guidelines at NICE, said: "It should not matter whether you are on foot, in a wheelchair, have a visual impairment or if you're a parent pushing a pram. If streets, parks and other open spaces are well planned, everyone should be able to get around their local area easily. Safe, accessible streets and well maintained parks can help people to get active and live longer, healthier lives."
Andy Jones, member of the NICE guideline committee, said: "Everyone should be able to have the choice to be active if they want to be. Making sure local streets and green spaces are attractive for everyone, including those with limited mobility is incredibly important. This guideline provides help on how to make local areas more accessible for all."
The guidance says that local councils should engage with their community to take account of the needs and views of people – including those with limited mobility who may be affected by the design or maintenance of streets and parks.
To increase the use of parks in local areas, NICE recommends that they are made more accessible and better in quality. For example, with clear signs that can be understood by everyone, measures to reduce anti-social behaviour, seats with arm and back rests and suitable access by public transport.
Dr Justin Varney, national lead for physical activity, Public Health England, said: "Physical activity benefits everyone at all stages of life. People living with impairments are less active, and this can be due to the way the built environment, including public spaces and transport systems, is designed. Making physical activity accessible to everyone when planning spaces benefits communities in terms of health, environmental sustainability and economic regeneration."
Physical inactivity costs the NHS in the UK an estimated £1.1 billion per year.
Increasing physical activity can prevent over 20 serious health conditions, including cancers, coronary heart disease, stroke, diabetes and obesity.
The draft guidance is out for consultation from 21 August until 2 October 2017.
Latest News from
National Institute for Health and Clinical Excellence (NICE)