Thursday 14 Sep 2023 @ 14:05
WiredGov Newswire (news from other organisations)
Matt Wrack becomes the new TUC President
General Secretary of the Fire Brigades Union is the new TUC President.
Matt Wrack was yesterday (Wednesday) elected as the new President of the TUC.
Matt, who is the General Secretary at the Fire Brigades Union (FBU), will serve in the role for a year and preside over the TUC Congress in September 2024. He will also chair the TUC's General Council and Executive Committee.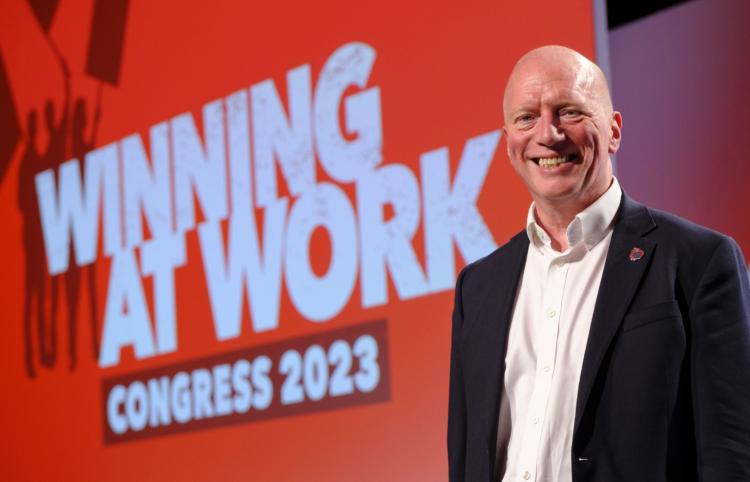 Photo @Jess Hurd
FBU activist
Born in Manchester, Matt joined the London Fire Brigade in 1983. He worked in east London and quickly became involved in the FBU, serving as a branch secretary in 1984. He was elected to a variety of branch, area and regional roles during his 20-year activist career.
Matt was elected as FBU general secretary in 2005 and has led the union through a period of unprecedented pressure on the fire and rescue service, from attacks on pay, pensions and jobs, to so-called modernising reforms which have undermined firefighters' response to emergency calls.
Matt has led the FBU through these attacks as a democratic, effective and campaigning union. The FBU has maintained UK-wide collective bargaining, improved pay and conditions, defeated the government over age discrimination in pensions and won widespread recognition for its campaigns. The FBU has also played a prominent role in calling for justice for the victims of the Grenfell Tower fire.
In the past year, Matt led the FBU's 'Fair Pay or Fire Strike' campaign, which mobilised thousands of firefighters, winning a 12% pay increase over two years. He has been one of the most vocal opponents of the government's Strikes (Minimum Service Levels) Act.
TUC General Council and Executive Committee member
Matt is elected to represent firefighters and trade unionists at TUC General Council and the TUC Executive Committee.
He is the Employee Side Joint Secretary of the National Joint Council for Local Authority Fire and Rescue Services (NJC) and for the Middle Managers' Negotiating Body (MMNB).
In his spare time he enjoys cinema, music, obscure books on history, politics and the fight against capitalism and spending time with his grandchildren.
Speaking after his election as President, Matt Wrack yesterday said:
"On behalf of firefighters, I am proud to be taking up the role of TUC President in the wake of an inspiring wave of industrial action across the economy.

"The cost of living crisis is a war by the ultra-rich on workers. While profits and inflation have soared, workers are being hit with falling wages, crumbling public services and more austerity.

"Rather than address the crisis, this government for billionaires is relying on a toxic cocktail of authoritarianism, bigotry and attacks on our right to strike.

"As TUC President, I will support the development of a movement that can win the repeal of all anti-trade union legislation and defeat this war on workers.

"As we approach the general election workers are hungry for an alternative. Politicians must understand that if they fail workers, they will face a determined, mobilised trade union movement."
TUC General Secretary Paul Nowak yesterday said:
"We are delighted to have Matt as our President for the coming year. He is an outstanding union leader – and we will need his dedication and innovative thinking as we continue to fight for trade union rights and navigate the cost-of-living crisis.

"Matt takes on the role of President at an unprecedented time in what will be a pivotal year for working people. I look forward to working with him to defend the right to strike and to campaign for a fairer, stronger, cleaner economy.

"As the countdown to a general election begins, it's great to have Matt at the helm as TUC President, leading the way in the fight for fair pay and good working conditions for all."
Editors note's
Congress 2023 will be held in the ACC Liverpool (Kings Dock, Liverpool Waterfront, Liverpool L3 4FP) from Sunday 10 September to Wednesday 13 September. The deadline for obtaining free media accreditation has now passed. Late applications will be subject to a £75 + VAT administration fee. Passes will be processed and sent out from the middle of August. For more information, please contact the press office.
About the TUC: The Trades Union Congress (TUC) exists to make the working world a better place for everyone. We bring together the 5.5 million working people who make up our 48 member unions. We support unions to grow and thrive, and we stand up for everyone who works for a living.
Contacts:
TUC press office 
media@tuc.org.uk  
020 7467 1248
Latest News from
WiredGov Newswire (news from other organisations)