Tuesday 06 Dec 2016 @ 14:15
National Institute for Health and Clinical Excellence (NICE)
NICE calls on third sector and public bodies to work together to prevent loneliness in older people
Some older people should be sent to dance groups or choirs to help maintain their health, says NICE.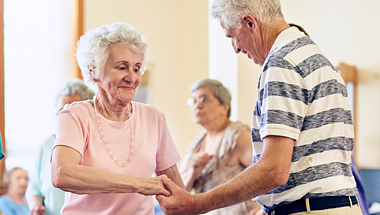 Vulnerable older people should be offered befriending programmes or exercise classes to prevent loneliness.
In a new quality standard NICE urges councils, housing organisations and the voluntary sector to work together to identify vulnerable older people.
Those most at risk should be directed to dancing or swimming clubs; arts groups or singing programmes or helping with reading in schools; as well as volunteering and befriending programmes
Professor Gillian Leng, deputy chief executive of NICE, said: "Everyone is affected differently by aging and whilst many older people can remain independent we need to do more to help those who can't.
"There is no one-size-fits-all approach to promote and protect the mental wellbeing and independence of older people.
"Our new quality standard calls for older people at risk to be identified and offered appropriate activities."
Improving the mental wellbeing of older people and helping them to retain their independence can benefit families and communities and may also reduce, delay or avoid their use of health and social care services.
Professor Carolyn Chew-Graham, GP Principal in Manchester and professor of general practice research at Keele University and member of the quality standard advisory committee, said: "As a GP it is often difficult to identify older people at risk as you won't necessarily know if they've had a bereavement or lost a job.
"It's really tricky to keep up to date with what services are available in a local area, as they come and go. As a GP it is difficult to remember exactly which groups are available each day, so I'm not able to be specific in the suggestions I give to patients.
"We must also remember this is not mandatory and some older people do manage to maintain their health despite not socialising."
A national network, The Campaign to End Loneliness, suggest over half of people aged 75 and over live alone and Age UK claim 200,000 older people have not had a conversation with friends or family for a month.
Latest News from
National Institute for Health and Clinical Excellence (NICE)