Thursday 12 Nov 2020 @ 08:15
National Institute for Health and Clinical Excellence (NICE)
NICE recommends new chemotherapy-free treatment option for people with untreated chronic lymphocytic leukaemia
More than 1,000 people each year will benefit from NICE's recommendation.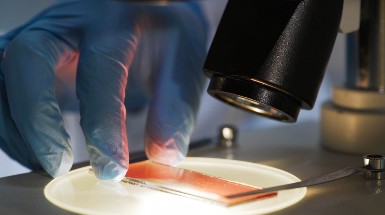 NICE recently (Tuesday 10 November 2020) recommended a new chemotherapy-free treatment option for people with untreated chronic lymphocytic leukaemia (CLL) in final draft guidance.
The recommendation of venetoclax plus obinutuzumab is set to benefit more than 1,000 people each year. The new fixed 12-month chemotherapy-free treatment will be offered to people with CLL who have not received any prior treatments.
CLL, a type of cancer that affects white blood cells, is the most common of the chronic leukaemias and accounts for around 30% of all leukaemias affecting adults. In England there were 3,157 new cases of CLL in 2017.
Venetoclax plus obinutuzumab will be offered as a first-line treatment to people with CLL, with certain genetic abnormalities (such as a 17p deletion or TP53 mutation). For those without a 17p deletion or TP53 mutation, venetoclax plus obinutuzumab will be offered to those people with untreated CLL for whom fludarabine plus cyclophosphamide and rituximab (FCR) or bendamustine plus rituximab (BR) is unsuitable.
NICE has also recommended venetoclax plus obinutuzumab as a new treatment option via the Cancer Drugs Fund, for people with untreated CLL without a 17p deletion or TP53 mutation for whom FCR or BR is suitable. This is so more evidence can be gathered on its cost effectiveness in this group.
Meindert Boysen, deputy chief executive and director of the Centre for Health Technology Evaluation at NICE, recently said:
"Today's announcement is good news for many people with chronic lymphocytic leukaemia. We are pleased the company engaged with NICE and NHSE/I to agree a commercial arrangement that will ensure access to this valuable new treatment option."
Venetoclax is taken orally, once daily, for 12 x 28-day cycles. Obinutuzumab is administered intravenously for 6, 28-day cycles.
NICE has previously recommended venetoclax with rituximab for adults with relapsed or refractory chronic lymphocytic leukaemia.
Latest News from
National Institute for Health and Clinical Excellence (NICE)