Monday 10 Aug 2020 @ 11:15
Nuclear Decommissioning Authority
One more pond to drain
Blog posted by: Deborah Ward, 10 August 2020 – Categories: Skills, Waste management.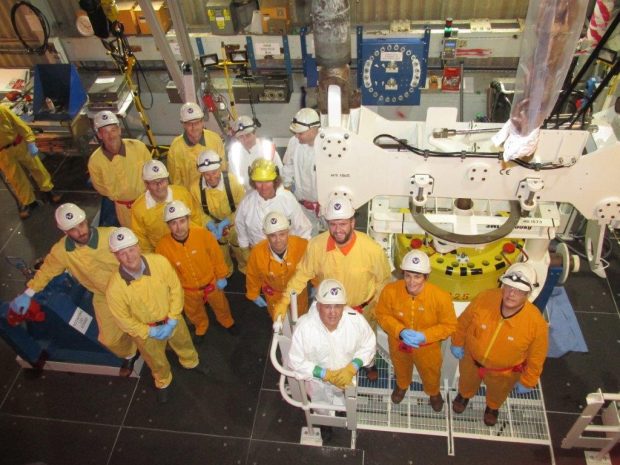 The ponds team
Focus on Chapelcross
Pond clean-up activities across Magnox are now focused on Chapelcross Site, the only site with water still to be drained down.
While Oldbury, Sizewell A and Dungeness A Sites have recently completed draining and decontamination programmes, the Scottish site team estimates that around 5 more years are required to reach a similar stage – that's without taking any coronavirus impacts into account.
It's not a question of being behind the curve, however, but of first needing an Advanced Vacuum Drying System (AVDS) and Interim Storage Facility (ISF) where waste packages can be safely stored after retrieval and treatment, both of which have recently been completed.
Relatively clean
Unusually, the Chapelcross ponds themselves, each containing 1,775 cubic metres of water, were periodically drained for cleaning during the site's operational life and are expected to be relatively clean.
Decommissioning began in 2010 and pond 1 was fully drained 9 years ago, with some contents transferred to pond 2, including sludge.
Pond 2 contains 87 redundant fuel skips, 50 skips holding zeolite resin used to remove soluble radioactivity from the pond water, almost 10 cubic metres of sludge, and 34 baskets of high-dose items such as miscellaneous activated components (MAC) and cobalt – some of which arose because one of the 4 reactors produced radioisotopes for medical purposes.
Cut up under water
Preparations have been under way for a number of years already, with much of the necessary characterisation and sorting completed. Many larger components were cut up under water, using remotely operated equipment – and 1,000 cuts - before transfer into baskets which remain below the surface, ready for loading.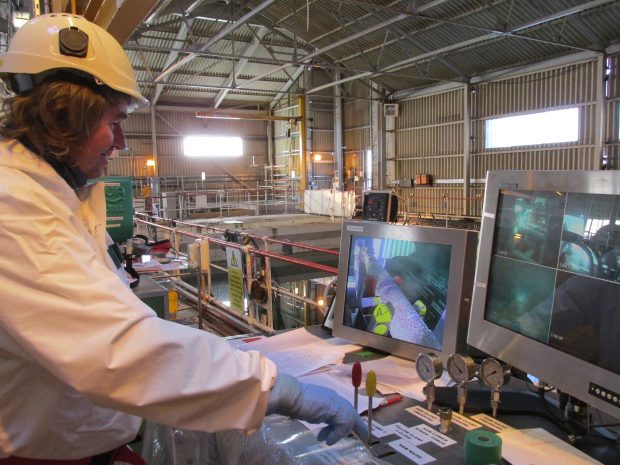 Located at a safe distance, Paul Ewart cuts up pond equipment
Ponds Project Manager, Allen Richardson, said the site had shared its earlier learning and design with Oldbury Site, after developing the handling equipment to lift out the MAC and cobalt, removing the need for them to start from scratch.
The next step, once the MAC and cobalt are removed, is to retrieve and condition the 50 zeolite skips, which will be stored in the ISF.
Sludge transfer
The zeolite skips will be transferred to an overpack while under water, then removed and drilled to drain out the water. They will then be transferred into a concrete box and cement-grouted, while lead-shielded Mosaik cylinders will be used for other waste, and the contents dried in the AVDS.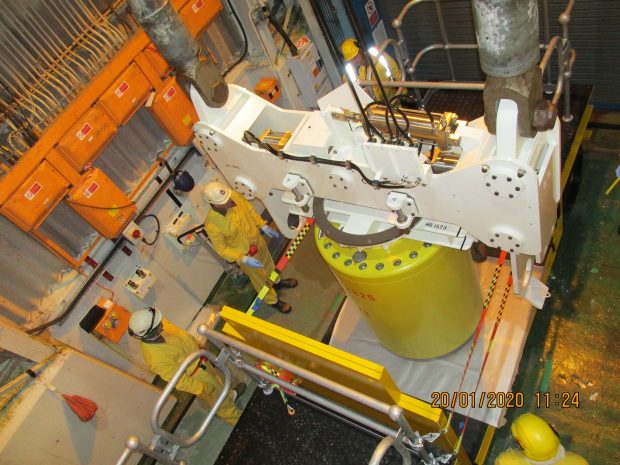 A Mosaik cylinder at Chapelcross
Sludge will be transferred into Mosaiks for AVDS conditioning and drying, then stored in the ISF.
When the coronavirus pandemic eventually allows the above work to be completed, specialist nuclear divers will be used to further size-reduce large items and lift out smaller ones. The move follows the recent success with dive teams at Dungeness A and Sizewell A Sites, and at Winfrith Site during the 1990s.
Pond facts
most nuclear reactors world-wide, and other fuel cycle facilities, use ponds to cool spent fuel
average Magnox pond depth is around 6-7 metres
all are configured differently but each contains 2,000–3,300 cubic metres of water
Hunterston A, the largest, had 6,000 cubic metres
ponds typically have additional bays and tunnels
the first Magnox ponds to be drained, in the 1990s, were Berkeley and Trawsfynydd
typical contents include desplittering equipment, sludge, IonSivs, fuel skips and sludge
drained liquid is filtered through treatment facilities before being discharged via the sites' active effluent discharge route
across the 10 Magnox reactor sites, the whole ponds clean-up programme is anticipated to cost around £300 million
simple innovative processes and shared learning have reduced original estimates by £45 million
You may also be interested in:
We're excited to see new concepts emerging
Cleaning up the
UK's nuclear legacy

Our purpose is to keep
Sellafield safe and secure
Latest News from
Nuclear Decommissioning Authority