Monday 20 Dec 2021 @ 12:33
EU News
President von der Leyen attends the European Council, calls for increased vaccination as 'the only way out of the pandemic'
At the European Council meeting on 16 December, the EU leaders discussed developments related to COVID-19, crisis management, and external relations, including the situation in Belarus and Ukraine. They also debated security and defence, external aspects of migration and energy prices.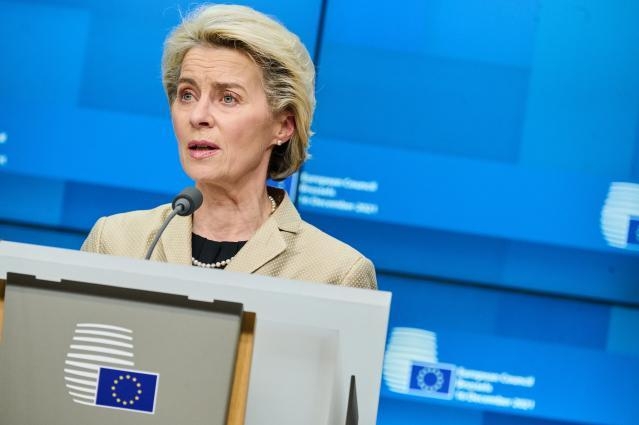 Speaking at a press conference following the meeting, President of the Commission Ursula von der Leyen stressed again the importance of increasing vaccination in light of the spreading of the new coronavirus variant. She reminded that more than 1 billion vaccine doses had been delivered to EU countries already, and encouraged the countries to order necessary quantities for the months to come. President stressed a number of other measures that are in place to help address the new variant. The EU is for example now able to produce 300 million doses of vaccines monthly. The European Health Emergency Preparedness and Response Authority is established, and there is work ongoing with the European Medicines Agency, to make sure that it uses the most streamlined procedure possible to assess any further vaccine development.
Speaking of the digital COVID Certificate, President von der Leyen said that the Commission would ensure a common approach on boosters and the length of validity of the Certificate. "Boosters are recommended at the latest six months after full vaccination. And the Certificate will remain valid for a grace period of three months beyond this."
The Leaders discussed migration and how to draw lessons from the response to the hybrid attack at the EU's borders with Belarus. President von der Leyen said there was agreement to work on two strands: to strengthen the cooperation with countries of origin and transit, and to make sure that the EU's legal framework is fit to address new challenges, such as the so-called instrumentalisation of people. She invited the Leaders to work on a swift adoption of the Pact on Migration and Asylum.
On the issue of Russia's military build-up on the eastern Ukrainian border, the European Council stressed the urgent need for Russia to de-escalate tensions. The Council reiterated its full support for Ukraine's sovereignty and territorial integrity.
"We would like to be in a situation where relations with Russia are good, but this is very much depending on the choices made by Moscow", President von der Leyen said. She stressed that the EU will be in a position to take sanctions that could extract a massive cost should Russia move against Ukraine, and that work had been done in that respect.
Latest News from
EU News