Friday 05 Mar 2021 @ 11:15
National Institute for Health and Clinical Excellence (NICE)
Register now for the HTAi 2021 Virtual Annual Meeting
The Health Technology Assessment International (HTAi) 2021 Annual Meeting will be held virtually from 19-23 June 2021, and registration is now open.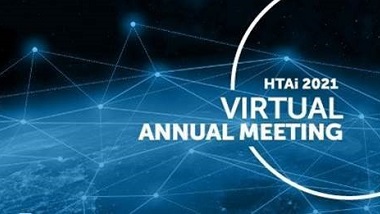 HTAi, the international society for the promotion of health technology assessment (HTA), have announced that the 2021 annual meeting, originally planned to take place in Manchester, UK, will move to a virtual format. With remaining uncertainty due to the COVID-19 pandemic and concern for participant welfare a priority, the society made the difficult but essential decision to move the meeting to an entirely virtual platform.
Virtual HTAi 2021
NICE, and co-hosts Healthcare Improvement Scotland and the All Wales Therapeutics and Toxicology Centre (AWTTC), have been working closely with HTAi to organise the annual meeting. Originally planned as a hybrid event, a virtual offering for those unable to attend the meeting in person has always been a key component. Though the meeting will no longer take place in Manchester the local hosts have ensured that the virtual platform will not only showcase the UK's expertise in HTA, but provide opportunities to network and collaborate with international colleagues to share information and best practices, from cutting-edge technologies to advancing healthcare through system development.
The theme for the HTAi 2021 Virtual Annual Meeting is 'Innovation through HTA'. Panels, workshops, oral and poster presentations will all feature alongside a virtual sponsors' exhibition and symposia. The virtual platform will bring together researchers, policy makers, industry, academia, health service providers and patients to debate and discuss the challenges of embedding HTA in health systems. The three plenary sessions originally planned for the live event will take place online and provide ample opportunities for delegates to join the conversation:
evidence for HTA: innovative methods for challenging times
patients at the heart of innovation
innovating HTA to support novel interventions
Register now
Registration for the HTAi 2021 Virtual Annual Meeting is now open. For information about registration fees and how to book your place visit the registration portal.
Further scientific programme details will be released over the coming weeks. For updates on speakers, plenary sessions, workshops and presentations from experts in the global HTA community visit the HTAi 2021 Annual Meeting website.
Latest News from
National Institute for Health and Clinical Excellence (NICE)