Thursday 25 Jun 2020 @ 09:20
Civil Service
Reserves Day 2020 – Piya's story
Blog posted by: Piya Das, 24 June 2020 – Categories: A great place to work.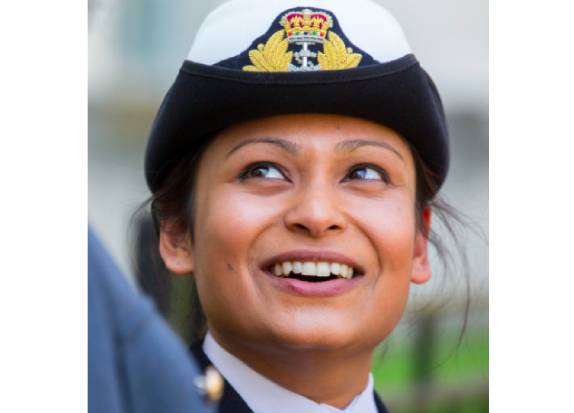 Sub-Lieutenant Piya Das
I was born in a small village in Durgapur, West Bengal, India. When I came to the UK in 2002, I gained my identity and my freedom alongside a strong desire to serve the country that enabled me to succeed in my dreams to become a qualified female engineer. Therefore, I decided to join the Royal Navy Reserves (RNR).
In my civilian role, I am a Senior Specialist Engineer for the Dreadnought Class Submarines at Barrow-in-Furness, and I am in the process of completing my Nuclear Qualifications. My RNR unit is HMS Flying Fox in Bristol. I am currently in Initial Naval Training as a Sub Lieutenant and aspire to join the Submarine Operations (Sub Ops), once I am trained. I have previously served at HMS King Alfred, HMS Forward and HMS Raleigh.
I have gained and achieved so much in the past five years of service. I have become a more confident and disciplined person being a Reservist. It has allowed me to understand the Royal Navy's operations and bring this knowledge back to my day job. I feel I am now better at prioritising my work and can de-escalate minor disputes within the workforce through my Reserves training. My improved physical fitness and mental robustness has also helped me become more focused in my day role.
The code I live my life by is what the Royal Navy (RN) expects: commitment, courage, discipline, respect for others, integrity and loyalty.
I became a civil servant in 2014 having previously applied for jobs as a qualified air engineer with private companies. This was the first step towards becoming an engineer, and an opportunity that was finally given to me by the Civil Service.
I did not choose the Civil Service, the Civil Service chose me, and I take great pride in working for the Government and HM the Queen. I was lucky that, from the very start I was working within the Ministry of Defence, which enabled me to fulfil my passion to wear the uniform and serve the nation twice and become twice the citizen, as both a civil servant and a reservist.
My boss understands my passion for the Reserve service, and I am supported through special paid leave. If I have been away on a training weekend, he allows me to delay my work start time on a Monday to allow me a bit of extra sleep! The Deputy Chief Engineer has always taken time out to talk to me, understood my ambitions and assists me in fulfilling them within the RNR. Sometimes he asks if I would join the RN full time, due to the passion he sees that I have for it!
Serving in the Reserves has allowed me to develop myself, achieve my goals and help to defend the nation. As Reservists we have a wide skill set and the ability to fit into various departments of the RN, if required. It's hard to put into words what this uniform and being a Reservist means to me. I do it not because I must, but because it is a service to others.
Travelling between my work in Barrow-in Furness and my RNR unit in Bristol, or the Britannia Royal Naval College in Dartmouth, both involve round trips of over 500 miles. But when you love something so deeply, you will make time for it!
If becoming a reservist was only for myself, then I would have given up a long time ago. I still serve now because my country needs more engineers. For this reason, my mission is much bigger than the SDA (Submarine Delivery Agency), the RNR and RN. My mission is to help the United Kingdom become the best nation in the world: the nation of opportunity, equality, fairness and empathy for everyone.
If I was asked to describe my Reserves experience in one phrase, I'd say: world-class training.
I would encourage anyone and everyone to join the RNR if they are considering it. It's so much more than a break from the day job. It's a lifestyle to take pride in and an honour to serve.
You may also be interested in:
Days in the lives of flexible-working fathers – Part 2
Latest News from
Civil Service