Tuesday 26 May 2020 @ 11:43
Nuclear Decommissioning Authority
Restarting high hazard reduction work at Sellafield – our employees' perspective
Blog posted by: Gareth Cosslett, 22 May 2020 – Categories: Safety and Wellbeing, Skills, Waste management.
This week our Chief Executive Martin Chown visited the First Generation Magnox Storage Pond (FGMSP) to see first-hand how the legacy pond is preparing to restart its first small parcel of operational work, with the maintenance of the pond's skip handler.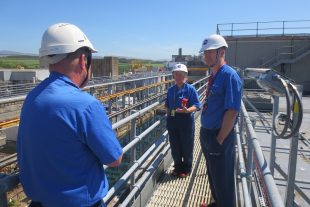 Alongside the Head of Legacy Ponds Dorothy Gradden, Martin Chown had a bird's eye view of the pond and preparation to restart work as Shift Team Manager Andrew Bell showed him around
Martin also met some of the people who have been continuing to work on site for the last 2 months to get their perspective on how a careful, phased restart of work feels on the ground. It follows on from a visit he made the previous week to the newly opened Box Encapsulation Plant Product Store Direct Import Facility (BEPPS-DIF) construction site.
He said:
As CEO it is important to me to demonstrate visible leadership. I have been able to spend some time over the past couple of weeks with the teams in BEPPS-DIF and FGMSP. I thought the work areas were very well organised and the commitment and passion shown from our workforce was outstanding.

A few weeks ago I asked everybody to contribute to making their work areas safe and effective. It was fantastic to see that is exactly what people are doing whilst taking their own personal responsibility seriously.
Here we give a snapshot of what's going on in the plants where we're restarting some important high hazard risk reduction work, plus first-hand experiences of some of the people working there and how they feel about work steadily restarting.
First Generation Magnox Storage Pond
Stage 3 work restarting: Skip handler maintenance and repairs, including completion of scaffolding work paused at the start of the COVID-19 restrictions.
Number of people being reintroduced to do the work: In total, approximately 20, although they won't be all there working at the same time. Different teams will build the 8-metre scaffold in a radiologically challenging area, do the repairs and then carry out the maintenance work afterwards over a number of weeks.
Plant status since COVID-19: Over the last two months there have been six people per shift in FGMSP offering 24/7 cover for essential care and maintenance work and minimum safety manning levels.
Why is the work important: Getting the skip handler ready for action now will mean that we can restart waste retrievals when the time is right without any further delays. Emptying the waste from FGMSP is one of highest-priority jobs on site.
Distancing measures are strictly enforced in the FGMSP control room, as Martin found when he met the team who've been holding the fort for the past 2 months
Click here for the full press release
Cleaning up the
UK's nuclear legacy

Our purpose is to keep
Sellafield safe and secure
Latest News from
Nuclear Decommissioning Authority