Friday 07 Jul 2023 @ 15:10
Chartered Trading Standards Institute
Summer of SMS scams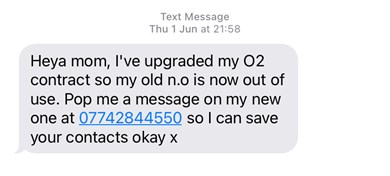 As teenagers venture away from home this summer for festivals, holidays and school trips, the Chartered Trading Standards Institute (CTSI) is warning parents and youngsters alike to be on guard against a new spate of text messaging scams.
In the scams, a text message purporting to be from the recipient's son or daughter claims that the sender has a new number, or has broken or lost their phone. Two examples seen by CTSI read:
"Broke my phone Mum. Can you text my new number on 07425218812 I'm messaging you from a friends phone x."

"Heya mom, I've upgraded my O2 contract so my old n.o is now out of use. Pop me a message on my new one at 07742844550 so I can save your contacts okay x."
The messages – and numerous others like them – are merely the first stage in a phishing scam, designed to dupe recipients into engaging with the new number and ultimately parting with personal data that can be used for nefarious means including identity theft and money transfer fraud.
There are also examples of the scam working the other way around, with the sender posing as a parent telling their offspring that they have a new number – with the same intention of stealing money or personal details.
The use of SMS text messages – as opposed to, for example, an app like WhatsApp – lends the scam an extra level of credibility, since it is more likely that such apps would not yet be installed on a new or back-up phone.
As well as endangering the recipient, the scams also put young people at risk by creating the possibility that a parent might replace their actual number with the new fake one, and be unable to contact them if the necessity arises.
CTSI recommends people who receive such messages to:
phone the supposed sender on their original number to check whether the message is genuine
if they are unreachable, verify the identity of the sender by asking them a question such as 'what colour is dad's car?', or 'what colour is the front door?'
go online to look up whether the new number has been reported elsewhere as a scam
never pass on personal details or make any payment via your phone unless you are 100% sure the person you are speaking with is who they say they are
be wary of suspicious wording, unusual spellings or phrases that seem out of character – while superficially convincing, many scammers make obvious errors, particularly if English is not their first language
always take time before replying to any message to stop, take a breath, and consider whether it is genuine
Katherine Hart, CTSI Lead Officer for Scams, said:
"Having the freedom to go out and explore the world is a crucial part of being young, and parents are often understandably worried about whether their children are safe and can be contacted in case of an emergency. Scammers know this, and they exploit that concern by posing as family members, with the ultimate aim of harvesting personal information.

"The good news is that there are some basic things you can do, like verifying the sender via their original number, or asking questions that only they would know the answer to, to give yourself some peace of mind and avoid being scammed.

"Any parent – especially those with teenagers – knows the high-stakes drama that ensues from a lost or broken mobile phone. In such situations, it can be tempting to make spur-of-the-moment decisions only to regret it soon after. We advise anyone who receives a message like this out of the blue to take just a few moments to double-check that it is genuine. Doing so could save you from a lot of trouble later on."
John Herriman, Chief Executive of CTSI, said: "Scammers will seize any opportunity to exploit people's personal circumstances. In these examples, they are playing on the need for parents to stay in touch with their children. They are playing on vulnerabilities and a result of their cynical efforts to steal money and data they are making it more difficult for families to contact one another in the event of an actual emergency. As ever, we urge the public to be on their guard. If you receive one of these text messages, do not respond to it, but do report it so we can get a better picture of the scale of the problem and make it more difficult for scammers to operate."
This release is being shared as part of Scams Awareness. Scams Awareness is a campaign aiming to: give people skills to identify scams; encourage people to share their experiences with scams; help people gain the confidence to report scams. The campaign is led by Citizens Advice in collaboration with the Consumer Protection Partnership (CPP).
For consumer advice, please call the Citizens Advice Consumer Helpline on 0808 223 1133.
To report scams in England and Wales, contact Action Fraud. In Scotland, contact Advice Direct Scotland on 0808 800 9060, or if in Northern Ireland, call Consumerline on 0300 123 6262.
The public is encouraged to join Friends Against Scams, a National Trading Standards initiative aiming to protect and prevent people from becoming scam victims by empowering them to take a stand against scams.
Chartered Trading Standards Institute (CTSI)
The Chartered Trading Standards Institute (CTSI) is a national not for profit established in 1881 which supports the UK's trading standards profession, and works to protect consumers and safeguard honest businesses. CTSI's members are engaged in delivering frontline trading standards services at local authorities and in businesses. www.tradingstandards.uk
Please contact CTSI Press Office: pressoffice@tsi.org.uk for any queries.
Citizens Advice is made up of the national charity Citizens Advice; the network of independent local Citizens Advice charities across England and Wales; the Citizens Advice consumer service; and the Witness Service.
Latest News from
Chartered Trading Standards Institute