Friday 13 Jul 2018 @ 16:10
Government Digital Service (GDS)
The importance of content designers in government
Blog posted by: Laura Billings, 11 July 2018 – Categories: Content design.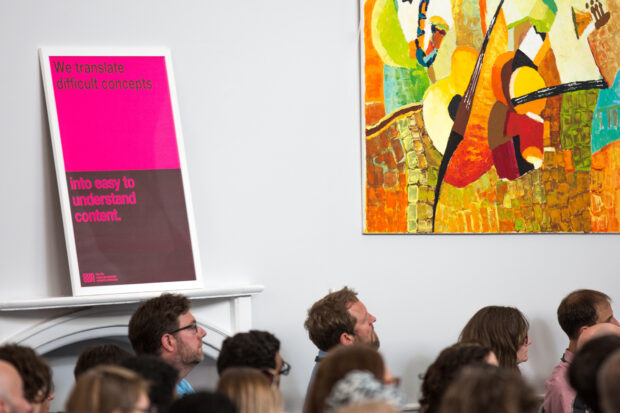 "Content designers translate difficult concepts into easy to understand content."
"We help people get the information they need, in the way they need it."
"Without content designers, government would be impossible for people to understand."
These comments are how content designers participating at #ConCon7, the seventh cross-government content conference, describe their value to government. Their job is to make government services and information simpler, clearer and faster for citizens and businesses.
We made the quotations into a set of posters to inspire colleagues across the content community and wider government.
According to feedback, ConCon7 was the best, most inspirational and widest ranging event yet. We had presentations from 14 organisations across government and 86% of attendees said they saw or heard stories that inspired them. We'll dive deeper into the feedback further down in the blog.
Sessions covered everything from a content designer's role on a multidisciplinary team, to how content is evolving with the use of voice search to technical guidance, design patterns and data dashboards.
Participants took part in visual impairment simulations to highlight accessibility requirements and workshops on how to create data-informed content to meet user needs. They also had the opportunity to listen to some prison radio adverts - created by content designers and recorded by prisoners to raise awareness of the new prisoner money service - and discover the impact it's had.
"I didn't know how many different types of content designers work within government, so it really opened my eyes to what future possibilities for work could be", one participant said of the event.
Keynote speaker Catherine Miller, Director of Policy at DotEveryone, shared the results of the Digital Attitudes Report and spoke about our role in producing responsible technology.
Those attending on the day enjoyed the range of work on show, with one delegate saying: "It's given me greater clarity over the breadth of what content professionals do and how big the network and profession is."
Another added: "I've gained more appreciation for the impact that content design can have on users."
Click here for the full blog post
Latest News from
Government Digital Service (GDS)