Tuesday 26 Sep 2023 @ 15:25
Economic and Social Research Council
UKRI to improve support for research students through new deal
UKRI has published plans to improve support for students studying towards doctorates and other research degrees, through a new deal for postgraduate research.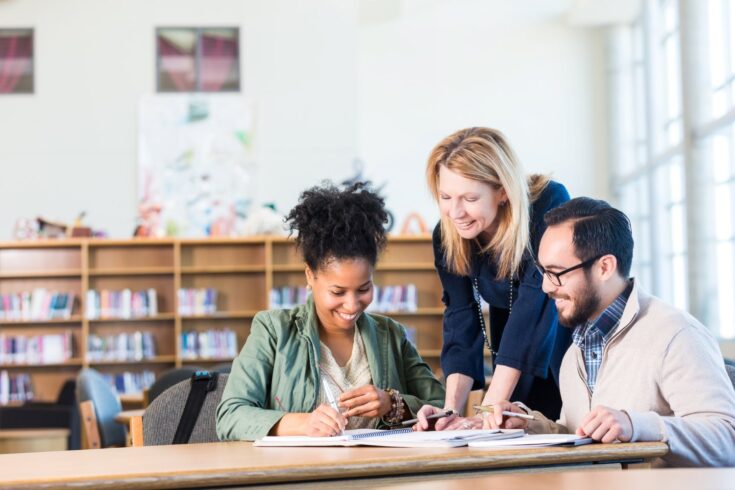 Credit: SDI Productions, E+via Getty Images
The plan sets out steps that the UK's largest funder of postgraduate research has already taken, as well as a suite of new work that will start introducing reforms in the future.
It also includes a commitment from key funders and university bodies to come together and consider whether there should be a common baseline for both the minimum level of stipend paid to support postgraduate research (PGR) students' living costs, and the wider support they may be offered.
Read a new deal for postgraduate research: response to the call for input.
Working across the sector to support research students
Today's report contains UK Research and Innovation's (UKRI) response to the issues raised in a call for input on the new deal, both as a funder of around a fifth of the UK's PGR students and as it brings together others in the sector as a convenor.
UKRI's plan outlines activity that it has already undertaken to support positive change including increasing the minimum stipend paid to UKRI funded students by nearly 20% in cash terms between 2022 and 2024.
UKRI has brought together other funders and representatives from research organisations of all sizes as a PGR Funders and Providers Forum to work on areas of common interest raised in the call for input.
Giving students the best possible experience
UKRI Chief Executive Professor Dame Ottoline Leyser said:
Today's report is a significant step in our work to strengthen support for postgraduate students. We are committed to a comprehensive and long-term programme to bring about positive change.

Postgraduate students play a crucial role in the research and innovation system through the research they conduct and the skills that they develop.

It is important that they have the best possible experience.

I am grateful to all those who responded to our call for input on key areas that affect postgraduate students.

Our response to your input sets us on a path to work with the sector drive change, supporting excellence in postgraduate research training now and into the future.
Strengthened and more inclusive
Professor Colette Fagan, FAcSS, Chair of the Russell Group PVC-Research group and Vice-President for Research, The University of Manchester said:
This report, developed by UKRI working in dialogue with other major funders and university bodies, will be widely welcomed. It documents recent significant reforms and next steps in the road map commitment to improve support for postgraduate researchers.

Our research and innovation workforce will be strengthened and more inclusive as a result.
Support from across the sector
Vanessa Wilson, CEO University Alliance said:
University Alliance very much welcomes the published plans to improve support for Postgraduate Researchers across the sector, particularly the focus on flexible approaches to PGR study and non-traditional models.

We have greatly valued being part of the cross-sector PGR Funders and Providers Forum convened by UKRI to work on areas of common interest.

Advocating for the role of professional and technical universities is essential to ensuring all those who wish to study towards a doctorate have equal opportunities to reach their goal.

We look forward to working with UKRI further on their action plan.
Progress so far
Today's report describes the considerable activity that UKRI has already undertaken to support positive change in PGR training, including:
increasing UKRI's minimum stipend by nearly 20% in cash terms between academic years 2021/22 and 2023/24 to better support students' living costs
embedding equality, diversity and inclusion as a core requirement for our doctoral training investments, both in terms of recruitment and the environment provided for all funded students
supporting and investing in schemes to develop and share good practice including on supervisory practice, widening participation and supporting students' mental health and wellbeing
establishing a cross sector PGR Funders and Providers Forum, bringing together other funders and representatives from research organisations of all sizes. It will work on areas of common interest raised in the call for input
UKRI's next steps
The report sets out an action plan for work that UKRI is currently developing or will undertake in the future:
we are reviewing how we set the UKRI stipend and the wider support that we provide for UKRI funded students, particularly those with disabilities, children and caring responsibilities, through our training grant terms and conditions
we will support more diverse participation in doctoral study by exploring innovative doctoral models
we will facilitate increased movement of researchers between disciplines and sectors, supporting diverse careers by promoting and strengthening wider professional development as a core part of doctoral support
the PGR Funders and Provides Forum has collectively agreed to explore developing a common baseline for the stipend and core support for students
we will publish an update on UKRI's work on Collective Talent Funding, bringing together its approach to investing in doctoral education, later in the year
Consultation with the sector
The government committed to a new deal for postgraduate research as part of a roadmap to delivering its ambitions for research and development. Its research and development (R&D) people and culture strategy announced that long-term work on the new deal would start with a cross-sector call for input led by UKRI.
Responses to the call for input represented a wide range of research students in the UK, including those who are self-funded and who receive funding from one of the many public, private or charitable funders.
Earlier in 2023 UKRI published an analysis of responses to a call for input setting out ten areas that students and other stakeholder felt needed addressing, from financial support to accessibility. UKRI has committed to engaging with stakeholders across the sector, including students, to develop a response to those issues.
Further information
UKRI funds around 20% of the UK's PGR students through its research councils with an additional £339 million to English universities from Research England in academic year 2023/24. This makes UKRI the largest funder of PGR in the UK, albeit it is still a minority of overall PGR students.
The UKRI minimum stipend supports the living costs of UKRI students. It has increased from £15,609 in academic year 2021/22 to £18,622 in 2023/24.
Latest News from
Economic and Social Research Council