Thursday 11 May 2023 @ 12:05
Science and Technology Facilities Council
UK's largest satellite testing facility welcomes first customers
The National Satellite Test Facility (NSTF) has welcomed Airbus Defence and Space UK as its first customers.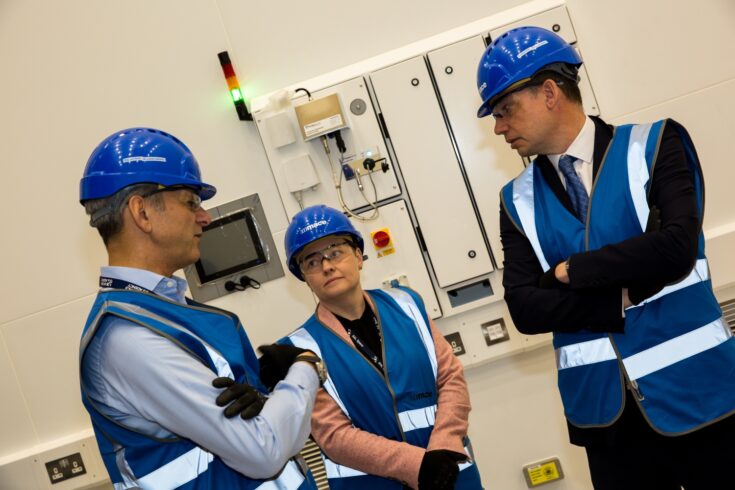 STFC Executive Director of Large Scale Facilities and Head of STFC Rutherford Appleton Laboratory, Dr Alan Partridge, Director of STFC RAL Space, Dr Sarah Beardsley, and Deputy CEO at the UK Space Agency, Ian Annett touring the NSTF as part of the signing event. Credit: STFC RAL Space
NSTF is the UK's £116 million centre for testing large, next-generation satellites.
Representatives from all organisations met at the Science and Technology Facilities Council (STFC) Rutherford Appleton Laboratory (RAL) today (9 May 2023) to sign a contract to mark the agreement.
The first satellite to be tested at NSTF will be Skynet 6A, the latest payload in the UK Ministry of Defence secure military communication programme.
Currently under construction at Airbus, the satellite is due to launch in 2025 aboard Space X's Falcon 9 rocket.
Putting space tech to the test
NSTF is based at the STFC RAL Space Laboratory as part of the Harwell Campus Space Cluster in Oxfordshire.
The cathedral-sized facility will allow companies to test whether their satellites can withstand the brutal conditions of space travel.
It features the UK's largest vacuum test chamber, where satellites the size of a double-decker bus will be exposed to an array of extreme conditions.
Awe inspiring science
Signing the inaugural contract, Dr Sarah Beardsley, Director of STFC RAL Space, said:
It's hard not to come into the NSTF and be awed by the sheer size and scale of what we've built. It really is the facility that the UK space industry have needed for some time.

Airbus have long been one of our closest partners and have been central to helping us get the NSTF ready, so we're delighted that they'll be the first to put the new facility through its paces.
Supporting critical communications
Richard Franklin, Managing Director of Airbus Defence and Space UK, said:
SKYNET 6A is designed and manufactured at our Stevenage and Portsmouth sites and will undergo its entire testing campaign at the new National Satellite Test Facility.

It is fitting that the facility's first testing contract is for Britain's' next generation SKYNET 6A, which will provide critical, secure-communications capability for our armed forces and will help further extend the UK's space ecosystem and capability.
Unique opportunities for the UK
Plans for NSTF began in 2015, when a study conducted by the UK Space Agency found that there was an urgent need for a single, central large-scale testing site based in the UK that gave companies an alternative to similar facilities in the USA and Europe.
Thanks to investment from the UK Research and Innovation (UKRI) Industrial Strategy Challenge Fund, the site includes:
an imposing electromagnetic chamber that features 44,000 inwardly pointing foam spikes
an acoustic test chamber capable of producing sounds far louder than the loudest rock concert
a vibration facility that replicates the conditions of a rocket launch
These capabilities provide UK space organisations with a unique opportunity to ensure their technology is at the forefront of space science.
The facilities will be commissioned during the second half of 2023, with the target of being fully operational by spring 2024.
For science and industry
Dr Alan Partridge, STFC Executive Director of Large-Scale Facilities and Head of STFC Rutherford Appleton Laboratory, said:
This is an incredibly important moment for UKRI and STFC.

The National Satellite Testing Facility is a cornerstone of our work to ensure the UK's place as a world leader in Space science and technology.

Through partnerships such as this with internationally recognised companies like Airbus we are laying a strong foundation for our burgeoning space sector and creating the conditions for scientific innovation and economic growth for years to come.
Catalysing investment across the country
Ian Annett, Deputy CEO at the UK Space Agency, said:
The National Satellite Test Facility (NSTF) is a significant addition to the UK's growing space infrastructure that will improve the support available for companies across the breadth of the UK space industry, which employ thousands of people across the country.

The brand-new facility, the first customer of which will be Airbus Defence and Space, will also help attract new businesses of all shapes and sizes to Harwell and the UK.

This will catalyse investment and accelerate the development of new technologies for decades to come – from advanced satellite manufacturing to secure communications, navigation and Earth observation.
Latest News from
Science and Technology Facilities Council