Friday 05 Jun 2015 @ 12:40
Wired-GOV Newswire (news from other organisations)
WWF - Tackling climate change: investors can play a key role
WWF-UK response to Mercer report

As global consultancy Mercer launched the report 'Investing in a time of climate change' which revealed how investors are exposed to both the portfolio risks from climate change as well as the growing opportunities from the transition to a low carbon economy, WWF-UK (a project partner) issued this response: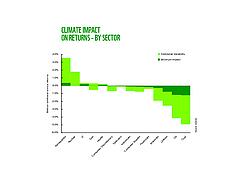 David Nussbaum, WWF-UK's chief executive said:

"This report highlights that investors should see the opportunities in addition to the risks from climate change. The tides are turning toward a low carbon future and away from the unsustainable status quo. Investment is needed to accelerate this unavoidable trend and those who are ahead of this trend, the report shows, may in fact better secure their financial future.

"It is now time for us to make sure that our investments are safe for the long term; safe financially and safe for our precious planet."

Ray Dhirani, WWF-UK corporate stewardship manager on sustainable finance, said:

"This is a landmark report. While it highlights the significant portfolio risks from climate change, it also shows that there are opportunities for long term investors in a low carbon world.

"Climate change will impact investor returns under each of the climate scenarios modelled. Furthermore, it shows that the transformation scenario is not more costly to investors at portfolio level. This should give confidence to investors that they can advocate for strong climate policy action without sacrificing financial returns.

"So, not only is climate change an urgent mega trend affecting our planet but it has profound investment implications for all investors. We hope the investment industry and global policy makers take note of these important findings, since we no longer have the luxury of time for inaction."

For further information, please contact:

Rebecca Pain, rpain@wwf.org.uk T: +44 (0)1483 412303 | M: +44 (0)7971 149666

Notes to Editors:

WWF-UK blog post by Ray Dhirani and short 'explainer' film available.

Full Mercer report available.

WWF is one of the world's largest independent conservation organisations, with more than five million supporters and a global network active in more than one hundred countries. Through our engagement with the public, businesses and government, we focus on safeguarding the natural world, creating solutions to the most serious environmental issues facing our planet, so that people and nature thrive. Find out more about our work, past and present at wwf.org.uk.
Latest News from
Wired-GOV Newswire (news from other organisations)