Thursday 02 Apr 2015 @ 15:33
Government Digital Service (GDS) Blogs
What Cabinet Office technology data tells us
Blog posted by: Julia Beaumont, 27 March 2015.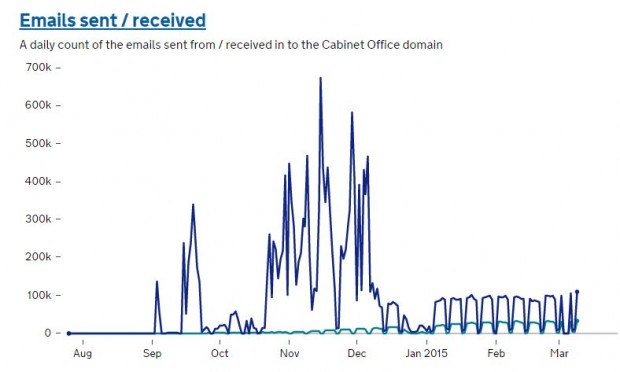 In February we started publishing data about the new Cabinet Office technology on the GDS Performance Platform.
The performance platform is normally used for reporting on digital transactional services, but we think that being transparent about internal technology services is just as important. And the data tells some interesting stories.
Transition
The most obvious thing that it tracks is our transition process.
The number of live accounts shows our Early Adopters rollout to 64 users last summer, our Beta deployment to another 200 users in September and another 400 in October before we began the mass live deployments in November. At our peak we were deploying nearly 90 laptops a day.

Emails and documents
You can also see the hundreds of thousands of emails migrated as well as the scale of the document migration: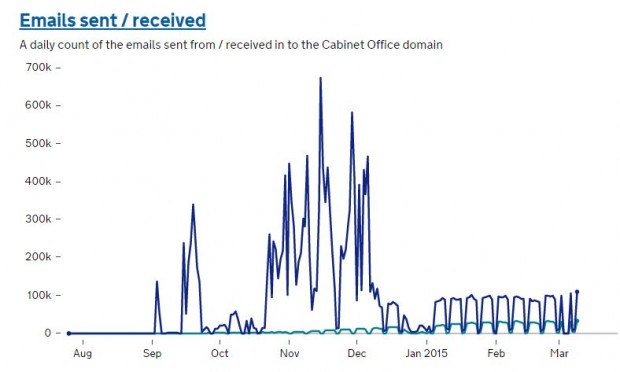 Usage trends
Now that things are starting to settle down, there are some trends emerging that tell us how people are using the new technology.
One interesting pattern is that email traffic tends to drop every Friday when fewer people are in the office. Meanwhile, the number of video hangouts is at its peak at the end of the week, showing that people are using video calls to stay in touch with colleagues.
However there is an overall downward trend in the number of video hangouts and total numbers are still low, so perhaps it's worth another push to make sure everyone knows how they work and understands the benefits.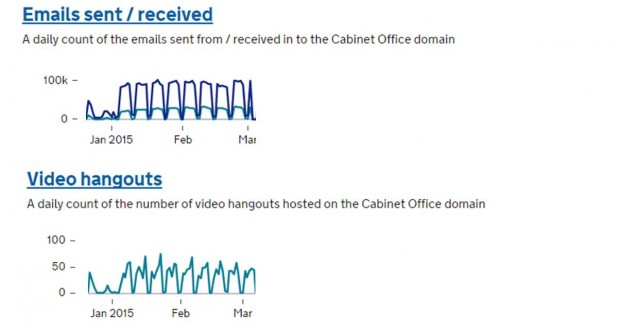 Another one, that surprised me at first, is that we receive three times more emails than we send. The average Cabinet Office employee sends 13 emails a day, but receives 44:

The hypothesis is that on average each email is sent to three different people, contributing to the over-flowing inboxes that many people complain about.
Communications
Our new technology gives us many more options for communicating with our colleagues – so it will be interesting to see how these numbers change over time.
We'd like to see the number of one-to-one emails decrease and an increase in both video hangouts and instant message conversations – they are more direct and create less clutter.
We also want to encourage document collaboration which will further reduce emailing things backwards and forwards, as well as encouraging the use of Google Communities for sharing information with colleagues.
Further data
And what about other stuff we could track?
Printer usage, perhaps? It would be good to see this going down. We can also look for trends in the number of people using their laptops from outside the office or data for use of Microsoft Word vs Google Docs.
We will keep publishing this data and more so that we can see how technology changes the way we work – watch this space.
Don't forget to sign up for email alerts for the Cabinet Office technology blog.
You may also be interested in:
Latest News from
Government Digital Service (GDS) Blogs