Wednesday 11 Nov 2020 @ 16:43
Big Lottery Fund
World Kindness Day: Wolverhampton community group brings joy to people's lives in lockdown
A Wolverhampton community group has been brightening up hundreds of people's days in lockdown throughout the COVID-19 crisis – thanks to The National Lottery Community Fund, the largest funder of community activity in the UK.
Even though it's World Kindness Day on Friday 13th November, Acts of Random Caring has been bringing joy every day to people's lives across the city since the pandemic struck. This has been made possible by over £40,000 of emergency National Lottery funding.
Based at Gatis Community Space in Whitmore Reans, it has set up an anti-littering campaign among nearby schools, held mindfulness and meditation sessions online, and will soon launch a 'lockdown library' for local children and families – distributing books that are currently sat unused in the group's community café, which had to be closed due to restrictions.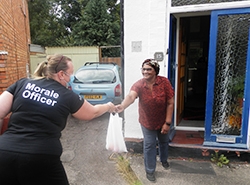 A group of 25 Morale Officers, who are also local residents, meet regularly to plan and host uplifting activities in the community. One of which is supporting The Real Junk Food Project Wolverhampton - part of a global movement to reduce food waste and distribute surplus food to those in need. 150 food boxes are delivered every week to older, disabled, or vulnerable people who may not be able to leave their homes during the pandemic.
Maria Billington, Director at Acts of Random Caring, said:
"Our Morale Officers and volunteer delivery drivers are a friendly face for people who may have little or no other social contact during these tough times. Acts of kindness have never been so important and it's our aim to bring positivity back into people's lives and empower people to be a better version of themselves.

"Thanks to National Lottery players we have been able to offer vital support not only within Whitmore Reans but city-wide. This emergency funding has helped us learn about our local community and engage with people we never would have reached before, as well as experiment with new activities. We've also been able to hire new members of staff and take on a surge in volunteers – supporting people, who have lost their jobs during the pandemic, to use their skills and experience to help others."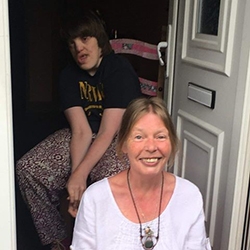 Daniel and Julie Moon
Julie Moon praises the support Acts of Random Caring has given her since being in lockdown with her 35-year-old disabled son, Daniel (both pictured). She said:
"They have not only provided us with good nutritious foods but have also contributed to keeping Dan occupied. He loves sorting through our weekly food boxes, and we use everything - making up weird and wonderful meals. Because of the level of Dan's autism, keeping him occupied and finding things to do with him can be difficult, so our boxes are something we look forward to. We even use the actual box to grow vegetables from seed in. Every delivery comes with a friendly smile and hello and brightens up our day."
Nicola Thurbon, Senior Head of Regional Funding for the Midlands at The National Lottery Community Fund, said:
"The dedicated work of community groups, like Acts of Random Caring, is so inspiring and humbling in what continues to be an extremely tough year. It's fantastic to see National Lottery funding helping organisations to adapt and continue to spread kindness and compassion in communities, showing their resilience and strength in times of adversity."
To find out more visit www.TNLCommunityFund.org.uk
Notes to Editors
About us
We are the largest funder of community activity in the UK – we're proud to award money raised by National Lottery players to communities across England, Scotland, Wales and Northern Ireland. Since June 2004, we have made over 200,000 grants and awarded over £9 billion to projects that have benefited millions of people.
We are passionate about funding great ideas that matter to communities and make a difference to people's lives. At the heart of everything we do is the belief that when people are in the lead, communities thrive. Thanks to the support of National Lottery players, our funding is open to everyone. We're privileged to be able to work with the smallest of local groups right up to UK-wide charities, enabling people and communities to bring their ambitions to life.
Website │Twitter │Facebook │Instagram
Latest News from
Big Lottery Fund