Monday 22 Nov 2021 @ 14:38
techUK
techUK position paper: UK Competitiveness in Autonomous Vehicle Technology
The UK has an opportunity to set out a clear path towards Autonomous Vehicle deployment, says techUK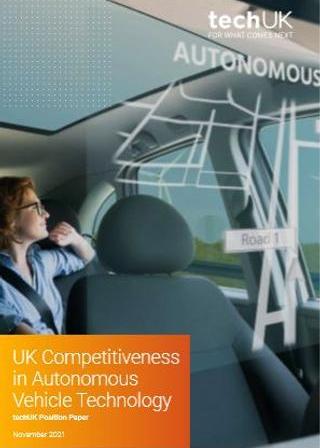 Press release: London, 22 November 2021: Technology trade association techUK is today publishing a new position paper on the opportunities available to the UK to design autonomous vehicles (AV) regulation in a way that delivers societal and economic benefits.
The benefits of adopting autonomous vehicles that operate entirely without human drivers include the following:
Improved road safety – 85% of collisions on UK roads are caused by human error
Improved mobility
Optimised transportation of goods
Improved resilience for road transport that addresses driver shortages
Greater technological innovation and investment in the UK
'UK Competitiveness in Autonomous Vehicles Technology', commissioned by techUK's Intelligent Mobility and Transport Group, calls for the UK Government to set out its vision for commercial AV deployment on public roads as well as creating a flexible, forward-looking framework that will allow driverless mobility to have a meaningful, positive impact on people's lives.
The UK has opted for a slower and more cautious policy development process in AV when compared with some EU member states and the US. Germany and France, for instance, have already created national rules for fully driverless technology to operate on public roads.
This path will provide an opportunity for the Government to learn lessons from other regulators as it seeks to determine and implement its own legislative and regulatory framework. However, if the UK wishes to keep pace with the EU and US, an urgency is nonetheless required to remain at the technical vanguard.
Consistent with the Government's vision for Global Britain, the paper concludes that government should set out a clear timeline for deployment and work towards the completion of a legal and regulatory framework to meet it in consultation with the AV community. The framework should put security, flexibility, and an ambition to build public confidence in this technology at its core.
Matthew Evans, Director of Markets, techUK said:
"Establishing a progressive legal framework for the AV market in the UK is the first step towards a safe and equitable transport future. Built on the ideals of fair and open competition, the UK AV market could mature into a world-leading example that adjacent regions will aim to emulate.

"techUK has a proud history of championing exciting and innovative new tech. Autonomous vehicle technology is one of the most important trends to come out of transport in years, with the potential to change the sector for good".
Notes to Editors
Media Contacts: Margherita Certo | T 07462107214 | E margherita.certo@techuk.org
The full report can be downloaded here.
About techUK
techUK is the trade association which brings together people, companies and organisations to realise the positive outcomes of what digital technology can achieve.
With over 800 members (the majority of which are SMEs) across the UK, techUK creates a network for innovation and collaboration across business, government and stakeholders to provide a better future for people, society, the economy and the planet.
By providing expertise and insight, we support our members, partners and stakeholders as they prepare the UK for what comes next in a constantly changing world.
Latest News from
techUK