back to listings
SME Profile:

Buchanan & Curwen (Leatherhead) Ltd

ELECTRICAL ENGINEERS & CONTRACTORS
Unit 44, Bookham Industrial Estate, Church Road, Bookham KT23 3EU
t: 01372 373481 e: buchanans@b-and-c.co.uk w: bceelectrical.co.uk
Welcome To The Buchanan & Curwen Group
Buchanan & Curwen has become synonymous with high standards and reliablility in the design and installation of electrical and security systems.
Our success is a willingness to recognise and interpret client requirements into a cost effective solution, irrespective of project size or value. Our directly employed staff have a breadth of experience in all sectors of the industry.
Based in Leatherhead, Surrey, the Buchanan & Curwen Group provides electrical design and installation for domestic, commercial and industrial premises. The Group comprises Buchanan & Curwen (Leatherhead) Ltd, specialising in electrical design and installation and Buchanan & Curwen Group Ltd which provides management services.
In addition, we offer a fee based design service, for projects of any size, supported by a fully equipped drawing office including full CAD facilities.
Established over 100 years ago, the Buchanan & Curwen name has become synonymous with high standards and reliability.
Range of Skills

Buchanan & Curwen can service clients of all sizes from small domestic repairs to electrical installations in commercial and industrial premises.
To reflect our underlying commitment to delivery of the highest quality product and standards of service, Buchanan & Curwen is a registered member of the ECA (Electrical Contractors Association) and is accredited by NICEIC (National Inspection Council for Electrical Installation Contractors).
Electrical Design & Installation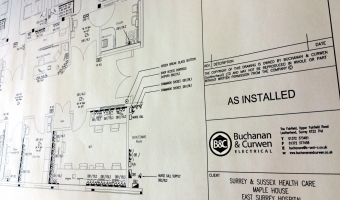 Buchanan & Curwen serves the requirements of all domestic, commercial and industrial clients, from small domestic repairs to complex electrical installations in commercial and industrial premises. We employ the latest technical advances, including energy efficient lighting systems and our on-going commitment to specialised training allows cost effective and efficient installations tailored to your requirements.
Data & Telephone wiring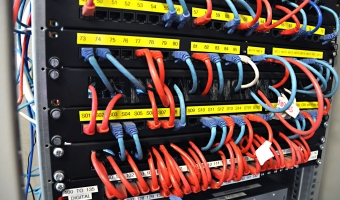 Structured Cabling is a single flexible cabling infrastructure that can support it all: PCs, phones and other devices. It's the 'glue' that links everything together - from voice and data to multimedia and network services such as ISDN, ADSL, WAN, and LAN.
Fixed wiring examination & Portable appliance testing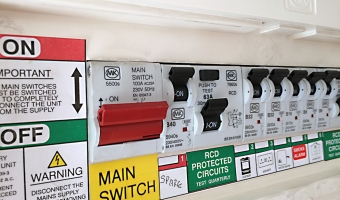 Condition Reporting
Electrical installations, both fixed installations and portable appliances can be potentially dangerous if not designed, installed or maintained correctly.
The Electricity at Work Regulations 1989, require all electrical installations in the workplace to be designed, installed and maintained correctly and it is recommended that the condition of the electrical systems should be monitored by regular inspection and testing.
Our fully qualified and experienced engineers carry out condition reports to electrical installations, issuing comprehensive results and observations. In addition we offer Portable Appliance testing to ensure compliance with employers responsibilities with respect to portable equipment.
Planned preventative maintenance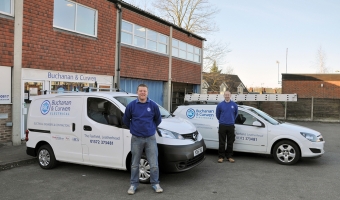 A Planned Preventative Maintenance programme can be written to suit any type of installation and our clients' requirements and is essential to achieve a reliable, safe electrical installation. The Electricity at Work Regulations state that installations must be maintained to ensure safety.
Maintenance including periodic condition reporting can assist clients in giving clients confidence that their installation is functioning correctly and that equipment has been maintained with defects rectified. This reduces costly breakdowns and possible losses to the business.
Standby Generators and UPS systems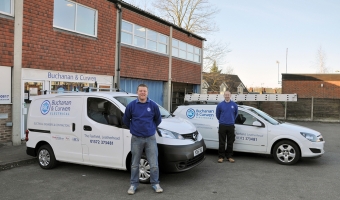 Alternative power systems are essential to all businesses in the event of a power failure or where refurbishment requires that part of the installation is to be maintained.
In addition to the provision of prime, standby and temporary generators to new and existing installations, we install UPS systems. A UPS provides emergency power to equipment that is sensitive to power failure, it will provide sufficient time for the standby generator to start or properly shutdown the protected equipment.
Lutron lighting systems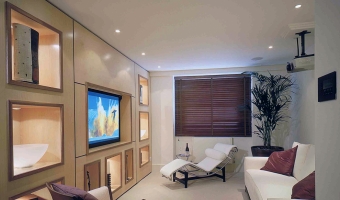 Light interacts with everything in your home... Your furnishing, you décor, your architecture. It interacts with your lifestyle. It interacts with you.
Lutron's HomeWorks Interactive Whole-Home Lighting Control System will change forever the way you've thought about light and your environment.
Its unparalleled capability to adjust, control and interface with lighting, entertainment and security systems sets it apart from anything else you have ever imagined.
It will change the way you demonstrate your sense of style. It will let you create.
Accreditations