back to listings
SME Profile:

Incomes Data Research Limited
Incomes Data Research Limited

71-75 Shelton Street, London, WC2H 9JQ
t: +44 (0) 1702 669 549 e: sales@incomesdataresearch.co.uk w: incomesdataresearch.co.uk
IDR is an independent research organisation specialising in the pay and employment field.
Our research covers pay, benefits, reward practice and HR policy. We provide HR professionals with information, data, analysis and tools to help them make intelligent reward decisions. Read more about us
Our Expertise
Our areas of expertise within the pay, HR and employment field.
SERVICES
Please click on the links below for more information on each of our products and services:
Pay Review Data
IDR collects 800 salary reviews annually enabling us to continually monitor and analyse pay trends.

Salary Level Data
Our database contains 10,000 salary records, covering 250 job titles from around 900 organisations, enabling robust and accurate market benchmarking.
Benefits Data
Our team collect data on employee benefits provision, covering a wide range of core and non-core benefits.
Benchmarking
IDR can provide bespoke, totally flexible and confidential pay and benefits benchmarking services, covering base pay, total reward and reward strategy.
Bespoke Research
Our experts have the versatility to provide bespoke research and analysis on a wide range of pay and employment topics.
Reward Policy Research
Our independence means we are well suited to conduct research for government bodies, regulators, employers' bodies, and trade unions.
PRODUCTS
Pay Benchmarker
Pay Benchmarker will help you to ensure you are paying the right level of salary necessary to recruit, retain and motivate staff in your sector and region. It brings together all of the data collected by IDR with user-friendly functionality. Learn more Demo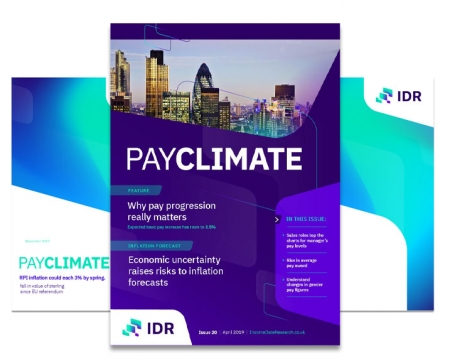 Pay Climate
Pay Climate provides the latest picture on pay awards across all sectors of the economy to enable pay practitioners to accurately assess the current climate on pay. Gain our insights on the key trends and developments in pay. Learn more Preview
Pay & Benefit Reports
Our specialist pay and benefits reports provide the data and commentary you need for key sectors and areas of reward. Read more
RESOURCES