Tuesday 13 Dec 2022 @ 13:38
Science and Technology Facilities Council
Importance of apprentices celebrated in STFC annual awards
STFC has celebrated the successes of their latest cohort of engineering, technical and scientific apprentices at their annual awards ceremony.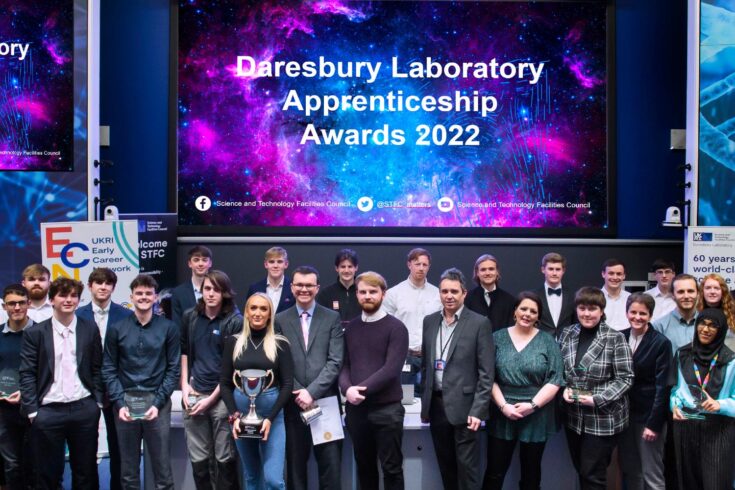 Many of the apprentices from STFC Daresbury Laboratory at the 2022 apprenticeship awards. Credit: STFC
Apprentices at the Science and Technology Facilities Council (STFC) are celebrating after their contributions to recent scientific and engineering milestones were recognised at the 2022 annual apprenticeship awards.
Celebrating apprenticeship contributions
STFC's apprenticeship awards celebrate the contributions that apprentices make to the organisation.
The awards were held at Rutherford Appleton Laboratory (RAL) and Daresbury Laboratory, where almost 170 apprentices work.
The annual award ceremonies are an opportunity for the apprentices to showcase their achievements and to collect awards which are nominated by their colleagues and peers.
Strong pipeline of skills
For STFC the annual awards are a way to demonstrate our commitment to increasing investment in early career technical staff through expanding our successful apprentice scheme.
The aim is to develop an even stronger pipeline of skills for the UK.
These annual awards are important in both recognising and celebrating the technical and engineering skills our existing award-winning early career and apprentice schemes are bringing to the organisation. And to the wider UK science, technology, engineering and mathematics (STEM) sector.
The events were attended by STFC apprentices, their families and colleagues.
Click here for the full press release
Latest News from
Science and Technology Facilities Council