Thursday 20 Aug 2020 @ 11:15
National Institute for Health and Clinical Excellence (NICE)
New agreement means NICE recommends combination treatment for some lymphoma patients
Hundreds of people with a form of blood cancer will benefit from a new treatment following the publication of draft guidance by NICE.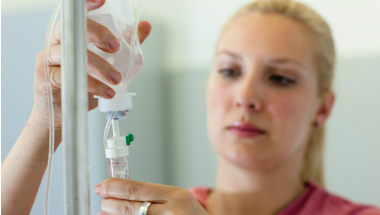 In new draft guidance, polatuzumab vedotin (also called Polivy and made by Roche) with rituximab and bendamustine has been recommended as a treatment option for adults with diffuse large B-cell lymphoma (DLBCL). The combination treatment will be available from today for patients whose cancer has relapsed or not responded to primary treatment, and who cannot have a haematopoietic stem cell transplant.
Around 4800 people in England have DLBCL, of whom around 530 will be eligible for the treatment.
The positive recommendation follows consultation on NICE's previous draft guidance which did not recommend the treatment. The company has since offered an updated commercial arrangement and submitted new analyses that address previous issues around the methods for estimating long-term survival. This means that the treatment is now considered a cost-effective use of NHS resources.
Meindert Boysen, deputy chief executive and director of the Centre for Health Technology Evaluation at NICE, said:
"We are pleased to be able to recommend this new treatment that could extend the life of patients with this type of lymphoma.

"I know how important this news will be for patients with this condition; polatuzumab vedotin is considered to be promising new treatment in an area where there are very few options. The combination treatment may offer valuable time for patients to spend with their loved ones."
John Stewart, NHS Director of Specialised Commissioning, said:
"Providing the latest cutting edge treatments for patients through innovative drug deals is just one way the NHS Long Term Plan will transform cancer care across the country, building on the thousands more lives already being saved thanks to improving treatment.

"Polatuzumab vedotin, in combination with other treatments, is a significant step forward in the treatment of lymphoma, giving patients a greater chance of survival, which is why the NHS has worked closely with NICE to reach a deal that not only benefits patients but is also a fair price for taxpayers."
DLBCL accounts for 2 in 5 Non-Hodgkin's lymphoma cases in the UK. It is an aggressive disease that progresses rapidly, with a significant negative impact on the quality of life of patients.
Clinical trial evidence showed that the cancer became undetectable in around 40% of the 40 patients treated with polatuzumab vedotin with rituximab and bendamustine, compared with around 18% of the 40 patients treated with rituximab and bendamustine alone. However, there is uncertainty in the submitted data on long-term remission.
Evidence also suggests that the combination treatment may increase progression-free survival and overall survival compared with rituximab and bendamustine alone.
NICE expects to publish its final guidance on polatuzumab vedotin with rituximab and bendamustine for DLBCL in September 2020.
Latest News from
National Institute for Health and Clinical Excellence (NICE)