Thursday 05 Nov 2020 @ 12:33
National Institute for Health and Clinical Excellence (NICE)
Shared Learning Awards 2020 finalist: East of England Stroke Telemedicine Partnership
The Shared Learning Awards recognise the brilliant work being done to put NICE guidance and standards into practice in a range of organisations, including NHS, local authorities, and the voluntary sector. The following work has been shortlisted for the NICE Shared Learning Awards 2020 and represents one of our three finalists.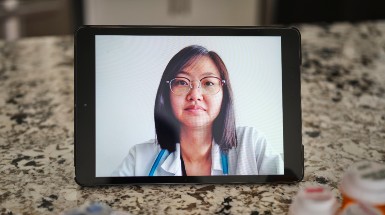 Shared learning example submitted by: Lynda Sibson, telemedicine manager, East of England stroke telemedicine partnership
Stroke was once mainly viewed as a risk of ageing and often resulted in patients being discharged from hospital with lifelong disabilities. There are over 100,000 strokes annually in the UK and thankfully, stroke is now viewed as a medical emergency. While most people survive a stroke, it is still the largest cause of disability in the UK.
The East of England encompasses a largely rural area, covering 7,500 square miles, the area sees approximately 6,000 stoke patients each year. With many patients living in rural settings and with a national shortage of consultant stroke physicians, there have been difficulties accessing the early interventions needed for many experiencing acute ischaemic stroke (AIS). In 2010, a review of the East of England stroke services took place; the results showed a need to explore new ways to help stroke patients access the timely treatment that they needed to decrease chances of disability.
The East of England Stroke Telemedicine Stakeholder Partnership was created to provide people with rapid access to out of hours stroke expertise for seven of the region's hospitals. The partnership used NICE guidance (NG128: Stroke and transient ischaemic attack in over 16s: diagnosis and initial management) to develop their service that features videoconferencing telemedicine technology to provide direct access to stroke expertise even in rural settings.
The service's key aim was to improve access to essential stroke treatment, thrombolysis, the breakdown of blood clots using medication. The recommended amount of time between someone first experiencing AIS symptoms and them receiving treatment is 4.5 hours. Due to the distance many people would have to travel to reach the closest local Hyper Acute Stroke Unit (HASU), it proved difficult to ensure that treatment was received in a timely manner. Using telemedicine videoconferencing and ensuring that there was access to a dedicated stroke consultant has allowed more people to be treated closer to home and improved the rates for hospital admission and helping to reduce the length of stay.
Since the start of the pathway, over 4,100 people have been assessed by the service and an overall improvement of 42% was seen in the timing for treatment. The telemedicine service started with 4 regional hospitals and 4 stroke consultants on the regional telemedicine rota. Since 2011, 3 more hospitals have started using the telemedicine service, with 13 of the region's Stroke Consultants participating in the regional rota.
"The East of England regional stroke telemedicine service is shortly to celebrate its 10th anniversary on 10th November 2020. During this time, we have assessed over 4,000 potential stroke patients by bringing the Stroke Consultant to the patient, when and where they were needed. This collaborative and collegiate approach ensures that we support 7 of our regions' hospitals out of hours by linking the local stroke teams to one of our 13 Stroke Consultants. This simple and elegant solution, using a secure and trusted videoconferencing system, has been so successful due to the dedication and hard work of our local stroke teams. The local stroke nurses are the true leaders of this innovation – working hard to liaise with the local stroke teams ensuring appropriate referrals and ongoing high-quality care. We simply ensure the right care, right time, right place" Lynda Sibson, telemedicine manager, East of England Stroke Telemedicine Partnership.
This work will be presented at the awards taking place virtually on Thursday 12 November, where the audience will be voting for the winner. Find out more about the event and how to register at www.nice.org.uk/news/events.
Find out more about this shared learning example here: https://bit.ly/34lMJdw
Latest News from
National Institute for Health and Clinical Excellence (NICE)