Thursday 25 Jun 2020 @ 16:15
National Institute for Health and Clinical Excellence (NICE)
Steam treatment recommended for men with an enlarged prostate
Minimally invasive procedure involves injecting steam to destroy excess prostate tissue.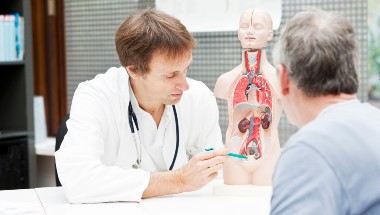 Up to 10,000 men with an enlarged prostate could receive a new treatment which improves their quality of life and preserves their sexual function, under new guidance from NICE.
NICE has recommended the use of Rezum, a minimally invasive procedure that involves injecting steam to destroy excess prostate tissue.
Some current treatments use heat to destroy excess prostate tissue and this can have considerable side effects.
Benign prostatic hyperplasia (BPH) is the medical term used to describe a noncancerous enlargement of the prostate. Symptoms like needing to pass urine more frequently, trouble starting to urinate and loss of bladder control affect more than a third of men over the age of 50.
The prostate is a small walnut sized gland found only in men. It produces the fluid component of semen and grows naturally with age. Problems occur when the change in size puts pressure on the tubes that drain urine from the bladder.
Clinical evidence analysed by NICE's medical technology advisory committee shows that using the Rezum procedure relieves lower urinary tract symptoms (LUTS) caused by BPH in men with moderate to severe symptoms who have a moderately enlarged prostate.
Evidence also shows that using Rezum is associated with improved quality of life and a low risk of sexual dysfunction.
Rezum is cost saving compared with standard treatments such as transurethral resection of the prostate (TURP) and holmium laser enucleation of the prostate (HoLEP) by more than £550 per person over 4 years.
Meindert Boysen, deputy chief executive and director of the Centre for Health Technology Evaluation, yesterday said:
"This technology could make a real difference to the lives of men up and down the country.

"Our committee has looked at the evidence and believe this quick 20-minute procedure under general or local anaesthetic will relieve the symptoms of an enlarged prostate, something many men suffer in silence with.

"The fact Rezum is unlikely to damage surrounding tissue and nerves means it has a low risk of causing sexual dysfunction."
NICE's medical technology guidance helps the NHS make efficient, cost-effective and consistent decisions about adopting new medical technologies. It supports innovation, transformation and improves healthcare delivery.
Rezum is carried out as a day procedure and men wishing to access this treatment should speak to their doctor. Currently it is being carried out in 18 NHS centres.
They are:
Churchill Hospital, Oxford
North Hampshire Hospital, Basingstoke
Charing Cross Hospital
Clatterbridge Hospital
Norfolk and Norwich Hospital
East Surrey Hospital
Warwick Hospital
Wrexham Maelor Hospital
Frimley Park
Whiston Hospital
St Albans City Hospital
Salisbury District Hospital
Royal Berkshire Hospital
Guys Hospital
Royal Hampshire County Hospital, Winchester
Bradford Royal Infirmary
Queen Margaret Hospital
Addenbrooke's
Related Resources
Latest News from
National Institute for Health and Clinical Excellence (NICE)