Thursday 02 Nov 2017 @ 12:25
Government Digital Service (GDS)
Celebrating diversity: the GDSBAME network on its first birthday
Blog posted by: Leema Ahmed, Samantha Bryant, Daniel Sintim and Hemita Bhatti, 1 November 2017 – Categories: People and skills.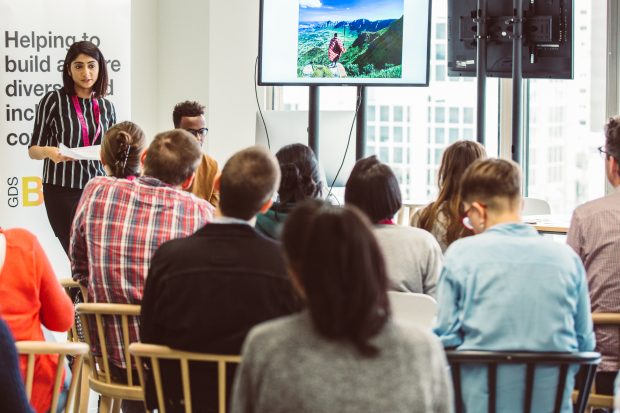 One of the talks that took place at GDS during this year's Black History Month.
We're the co-founders and co-chairs of the GDS Black Asian Minority Ethnic (BAME) staff network. In this blog post, we want to share why we started GDSBAME last year, and where we are a year on.
Until the launch of the network, there was no specific channel for the BAME community at GDS, or opportunity to promote awareness. With relatively few BAME role models at the senior levels of the organisation, it can be difficult for people to imagine themselves progressing within GDS.
That's why it's really important to make everyone feel included by giving underrepresented groups like BAME employees a voice. It's also important they have a forum to network and exchange ideas, solutions and experiences. This was the motivation for founding GDSBAME.
How GDSBAME began
The idea of setting up a network and platform for BAME colleagues came by chance through a conversation between the four of us at lunch.
As a collective who actively identify with our Asian and Afro-Caribbean heritage, we saw an opportunity to raise the profile of cultural diversity.
So, in true GDS style, we ran a workshop from the perspective of potential BAME network members.
We invited colleagues from across GDS to hear their opinions and to learn what they would like to get out of such a network. The session helped us set our goals. It also shaped the network's objectives as being a space for BAME colleagues to have a voice.
Here are the three main things that came out of our workshop:
more visibility for BAME role models and inspirational speakers
more learning and development opportunities for the BAME community
a desire to raise cultural awareness within GDS
Latest News from
Government Digital Service (GDS)