Friday 27 Oct 2017 @ 10:20
Government Digital Service (GDS)
GDS Academy, HMRC and DWP partner on first cross-university internship scheme
Blog posted by: GDS Academy, 26 October 2017 – Categories:People and skills.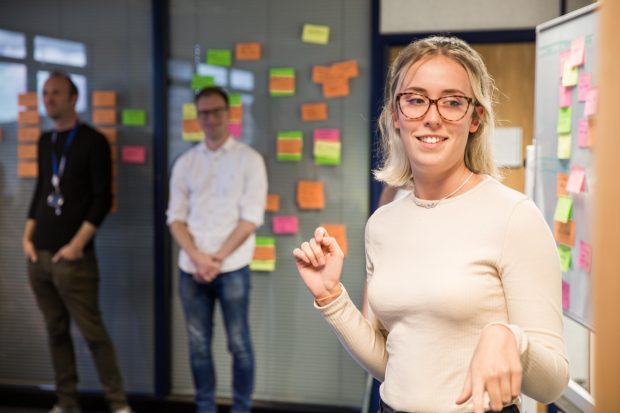 The GDS Academy, DWP and HMRC recently ran an internship programme with 3 universities.
Students from University of Leeds, University of Manchester and Manchester Metropolitan University attended an 8-week course designed to develop digital skills and showcase the Civil Service as a career option.
We joined up with other government departments to deliver this programme in order to build Digital, Data and Technology capability across the Civil Service. This is one of the main priorities of the Government Transformation Strategy published earlier this year.
The programme
The internship programme, developed by the GDS Academy, included training and a 4-week placement on a digital service in a government department. It also included a 2-week team project in which interns developed an online tool prototype for a specific public service.
The internship programme developed from a pilot trialled in 2016. It allowed us to build a comprehensive scheme that can be extended to several universities and government departments.
Latest News from
Government Digital Service (GDS)