Friday 04 Oct 2019 @ 10:20
Government Digital Service (GDS)
Measuring the climate impact of our digital services at GDS
Blog posted by: Emily Labram – Senior product manager and Will Pearson – Senior site reliability engineer, 3 October 2019 – Categories: Technology.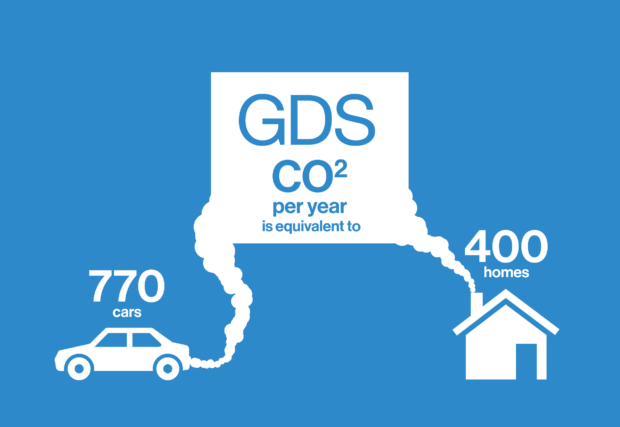 Earlier this year, GDS formed a Sustainability Network to help our department reduce greenhouse gas emissions.
We were inspired by the government's commitment this year to reduce emissions to "net zero" by 2050, and the government's Sustainable Technology Strategy 2020.
We decided to measure how much CO2 is produced as a result of our work, so we started with the largest potential source – our digital services.
Why we chose to focus on our digital services
When we think about reducing emissions, we often think of flying less or switching the lights off. We don't tend to think about the energy it takes to keep digital services like GOV.UK up and running. But at GDS, this is actually our biggest potential source of emissions.
The IT industry actually uses 3.6% of the world's electricity, and it produces 1.4% of the overall greenhouse gas emissions.
Websites like GOV.UK stay up and running thanks to thousands of computers in data centres. These computers are powered by electricity, which is a potential source of CO2, depending on how it's produced.
At GDS, we use data centres from various companies, including Amazon Web Services (AWS). We decided to find out how our data centres source their electricity, and how much CO2 they produce through keeping services like GOV.UK, GOV.UK Verify and GOV.UK Notify running.
What we wanted to find out
To estimate the climate impact of our digital services, we wanted to find out a couple of key things:
How much electricity does it take to power our digital services?
How much CO2 is produced by that electricity? This would depend on how much of the electricity is generated from 'green' energy like solar or wind, and how much comes from burning fossil fuels.
To tackle these 2 questions, we asked our hosting providers for data on our electricity usage and CO2 emissions. We also made a rough estimate of our overall electricity usage. And, we estimated the amount of CO2 emissions produced by our electricity, using data from this electricity map produced by a company called Tomorrow.
Problems getting the data
We asked our hosting providers, Amazon Web Services, UK Cloud and Carrenza, to tell us how much electricity we use, and how much CO2 we produce.
Only one of our providers, UK Cloud, agreed to give us data about our electricity usage. For Amazon and Carrenza, we made a guess about the amount of electricity we use, assuming a percentage of our monthly bill.
In addition, neither Amazon nor Google currently shares information about how much CO2 their data centres produce. Although they claim that some of their data centres are "carbon neutral" or "100% renewable", they do not explain to what extent they achieve this through offsetting – for example, through renewable energy projects elsewhere. Offsetting is useful, but it's more important to avoid emitting CO2 in the first place.
We want to host our services in the most sustainable way we can. So we need to know how much CO2 is actually produced per kilowatt of electricity, per data centre.
Hopefully, our hosting providers will provide this data soon, now that Amazon has announced new commitments to measure and reduce emissions.
How much CO2 do GDS digital services produce?
Because our hosting providers didn't share our electricity usage data with us, we went ahead and estimated it, based on the information we did have, including our recent bills.
We estimated that the maximum amount of CO2 we produce is around 4,000 tonnes of CO2 per year. That's the equivalent of the CO2 produced by the energy used by a village of 400 homes every year. Or the fuel burned by 770 cars, on average, in a year.
This is almost certainly GDS's largest source of emissions. So we are keen to find ways to bring it down to zero, in order to meet our commitments.
What's next
It's encouraging to see the largest hosting providers, Amazon and Google, make announcements about measuring and reducing their CO2 emissions. If our providers make their data centres more sustainable, this will reduce our emissions. It will also benefit all their customers, including other teams in government.
Over the next year, we'd like to work with colleagues across government to:
Reduce the electricity we need to run our services – for example, by making our digital services more efficient
Keep asking our providers for better data to help us develop guidance on the most sustainable data centres by region and country
Update the Service Manual's guidance – 'Deciding how to host your service' – based on what we learn
Let us know in the comments below if you'd like to work together to reduce the climate impact of government services.
Podcast: The International Design in Government community
Latest News from
Government Digital Service (GDS)